Monday, April 25, 2005
this few days i kept eating fried rice.. haha.. some updates of wad i did..
fri went to thank you lunch for our ITP cum networking lunch..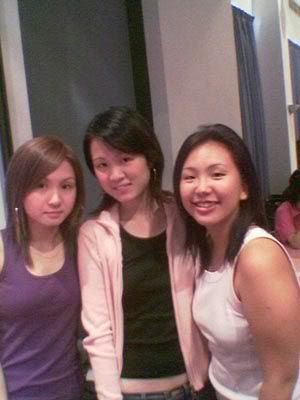 after tat me n iris went for an interview at goodwood park hotel for a promoter interview.. zzz.. so many ppl lor and the hotel is like erhem.. after tat went shopping while waiting for our ktv session at 6pm.. while waiting, went candle and bought stuffs again.. arghh.. spent like $60..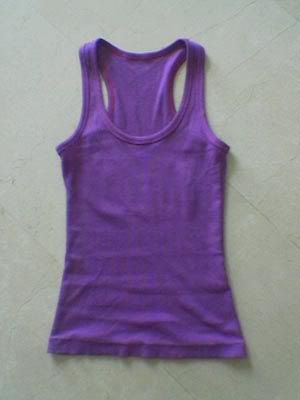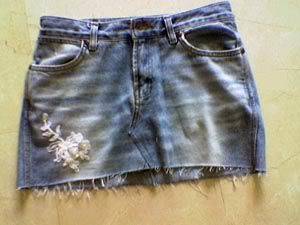 our lunch of fried beef kuay teow and mee goreng.. *yummy*
sat: this place is at kim's at bugis.. me n ed went to eat the chu cha last time and tasted fantastic so went again lor.. this time we ate the hokkien mee and fried rice.. the hokkien mee chilli is very special.. not like the normal type.. we ate the fried beancurd.. not too bad..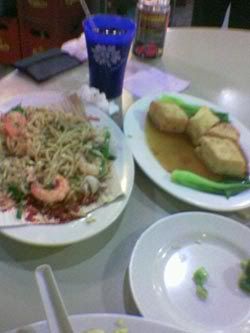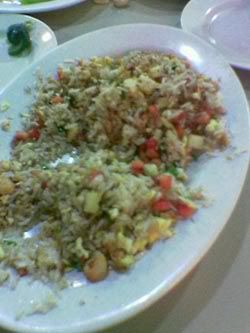 the food like half half coz i forgot to take pics.. hiak..
after tat played pool wif kiatz, lebon, ron and friends.. haha.. so long nvr see them.. like so ancient den we had supper.. mushroom cheese prata.. =p
should i buy this top? from mango $45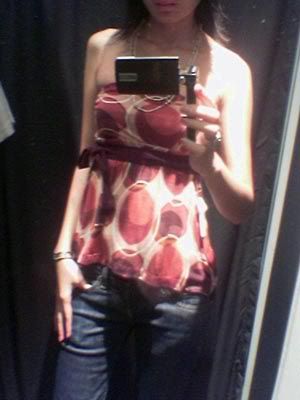 an update of me.. sob, i miss my long hair.. now so troublesome coz nvr rebond hair den everytime need to put on styling cream..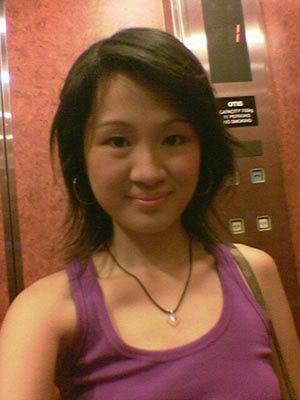 Posted by jess at 2:36:00 PM
Wednesday, April 20, 2005
i wil not update much of my personal life here.. guess thr are some ppl who are too free to make a din out of wad i write.. =)
nway, later am gonna watch "the interpreter".. have been waiting for this movie to start.. den mayb accompanying my mum to check up for her blood pressure and lungs.. *hiak*
here are the D&D pics as promised.. alot of pics very very blur and thru photoshop stil cannot see.. arghhh, so wasted eh.. its impossible for me to upload afew hundreds pic so i shall juz put up afew..
from the front office: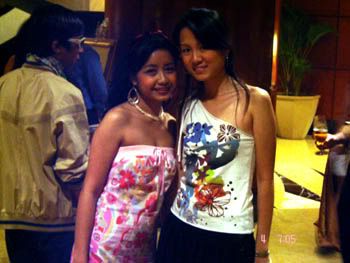 this malay girl is very very pretty and cute!! haha..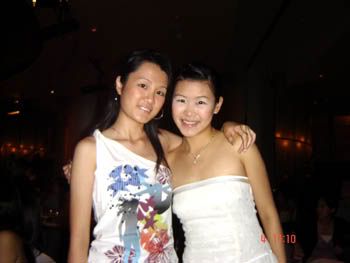 they call us the twins.. but i dun we look alike.. mayb abit in the Front Office 2uniform ba.. she is a yr younger den me orh..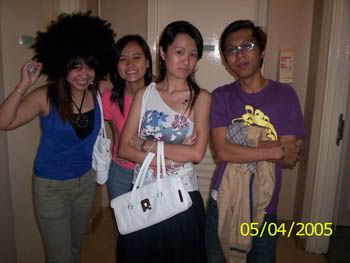 look at tat afrol hairstyle.. buahaha.. she stole it from nadim (tat guy)
Housekeeping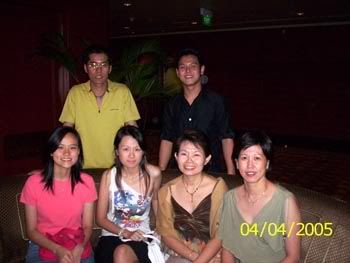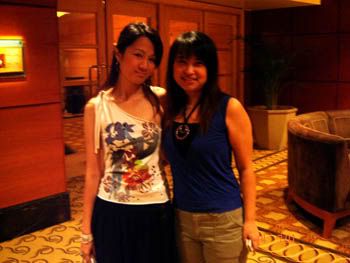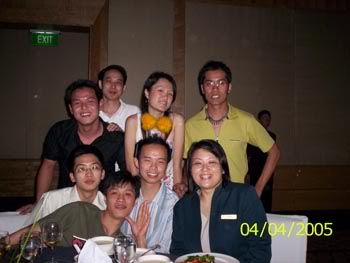 Posted by jess at 4:44:00 PM
Monday, April 18, 2005
had a fantastic time at chinablack on wed!! the music is great, crowd as usual.. best thing is iris's friend and sha were thr.. although it was ladies nite, me and iris ended up buying drinks at our own expense coz their housepour really sux to the core esp the vodka cranberry.. *yuckz* we drank our usual waterfall and lambo.. i tink we dance w/o stopping much til like 430am w/o realising the time.. but becoz something happen, i went off first.. but my silly darlings oso went off wif me.. >.< i am looking forward to clubbing now!! hiak
fri went to watch "series of unfortunate events".. hmm, okay show la.. den meet my friend for dinner den went home to catch the last episode drama series..
sat, intended to go BBDC to register.. reached thr ard 315 den the girl say muz hav passport size photo but i dun hav so i took the instant one.. after taking, i ask her so can i reg now? she told me "sorry but the counters close at 330pm".. wtf rite!! she shld told me earlier ma.. after tat had lunch at bukit gombak wif ed den proceed to orchard.. played pool wif iris and billy.. ard 8.30pm, we wanted to go off sing ktv le but stupid billy say he wanna play last rd wif me coz he haven trash anyone!! but heng heng, nvr let him trash.. lost 1 black ball to him.. went ktv and sang till 1120pm.. den i took cab home le..
Posted by jess at 12:41:00 PM
Friday, April 15, 2005
You've Been Bit By the Shopping Bug!

You're constantly adding to your wardrobe - and it shows
However, you can show some restraint. You love good deals.
Your love of the clearance rack has paid off...
You probably have only maxed out card or two, if at all!
Are You a Shopaholic? Take This Quiz :-)

Find the Love of Your Life (and More Love Quizzes) at Your New Romance.



Guys Like That You're Fun

You're the type of girl guys brag about knowing
That's because you're cool, funny, and laid back
You're smart enough to know how to be one of the guys
But flirty enough to know how to make them all want you

What Do Guys Like About You? Take This Quiz :-)

Find the Love of Your Life (and More Love Quizzes) at Your New Romance.
Posted by WanAhLun at 11:08:00 PM
Wednesday, April 13, 2005
as of ytd.. i hav a new reader reading my blog.. yay! *appluase* so now i muz make my blog more interesting.. for tat someone who reads my blog, pls dun act like u r the greatest victim k? the truth is tat everyone can be a victim but not u.. my darlings, i know u all care for me.. but regarding this above sentance, pls do not comment on it.. >.<
sunday: went my uncle house for majong session but of coz i rather play wif my baby cousin, Stephen.. he is not as fat as before le.. but he is damn heavy leh.. caryy him 5mins can make me exhausted sia..
an update of him..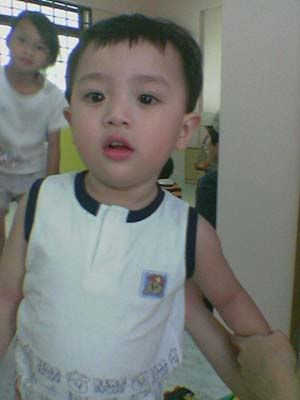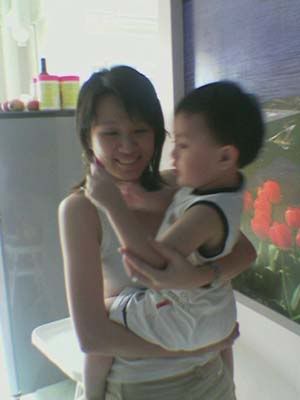 den after tat we went to downtown east "lemongrass" for dinner.. not bad, quite nice eh.. i hav got a 15% discount voucher so find a day lets go eat!! hee..
mon: met sha go far east shop for my skirt or top to be worn for tonight's clubbing.. but cant find top so juz bought a skirt.. heehee.. nice nice eh.. i like!!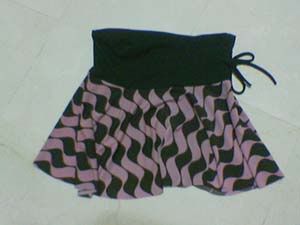 i bought this card.. its a one for one meal at 3 different outlets in Chijmes.. plus free cover for chinajump.. >.< but cost me $40.. tink we shall change our clubbing to chinajump huh? heehee..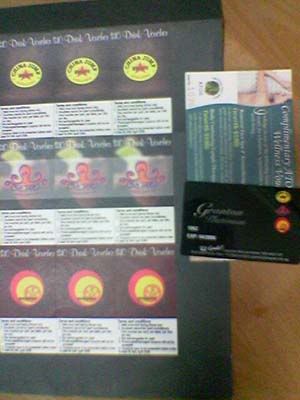 Tue: met my primary school friend for pool, den watched the movie "Samara" at causeway pt.. hmm, identical to the ring leh.. not scary and not tat nice de.. had swensens for dinner.. my half-finished curry chicken baked rice and another half-finished chicken breaded cutlet.. too hungry forgot to take pics ma.. but stil looks nice hor?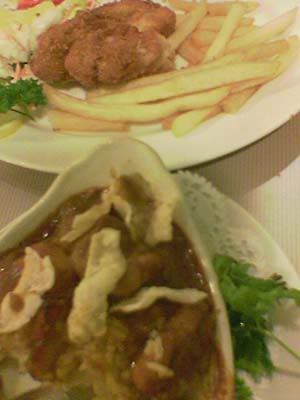 Posted by jess at 2:49:00 PM
Saturday, April 09, 2005
hav decided to delete this post due to overwhelming response and i hav gotta an answer from him.. it was not done by him at all.. so i am such a threat to her.. hahaz.. rong and iris, both ur sarcasm like higher standard den mine leh.. haha.. i am so sorry tonight cant meet u girls.. rong, when u finish ur exam, mayb we can stay over at ur hse discuss our KL trip. since iris cant go until may, jinting might be joining us too!! heehee.. but i gotta tell my parent tat we are going wif tour if not they nag, nag, nag.. LOL..
oh btw, i watched "the pacifier" today.. it is a very fantastic show!! very very funny.. muz watch.. u wun regret it.. >.<
Posted by jess at 10:57:00 AM
Friday, April 08, 2005
wed: mum took off today and brought me to this place call "fortunate restaurant" for dim sum.. i treat her eat coz aiya juz got my pay and feel happy tat day..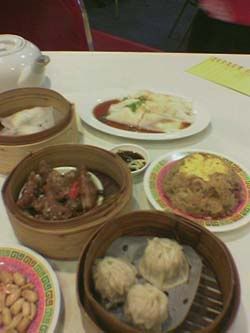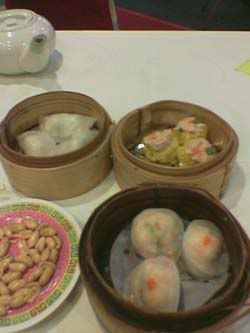 stil got afew but forgot to take.. heee..
den at nite, my dad bought me to this place for supper.. we bought supper thr to eat.. brought our own small table and stool.. a very nice senic place.. somewhr at yishun..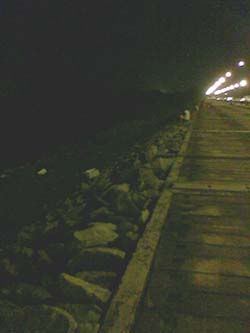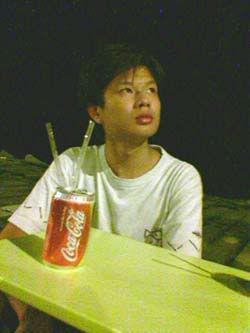 a pic of my bro together wif the small table.. *opps*
today went for a haircut wif jinting at some shop at far east call Rave.. i did treatment too!! btw, i have been spending so much recently tat i am terribly in need of money.. any jobs pls include me in ar.. >.<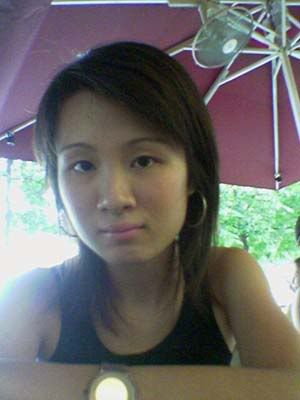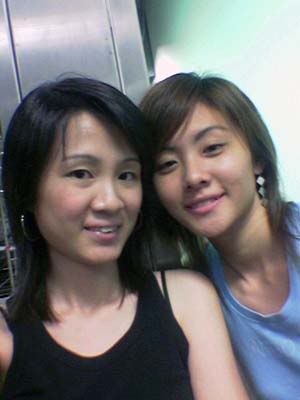 2 versions for my hair.. which is nicer?
today saw someone wif someone hand in hand.. my heart stop for a moment and i tot i wil juz die thr.. i tot i had sort of gotten over but i did not.. someone mentioned in his blog abt his bro and his gf.. so i am the last to know tat u n her hav patch??? bloody farker liar!! *pui*
Posted by jess at 10:25:00 PM
Tuesday, April 05, 2005
gonna be an interesting wk for me.. hee..
sat went dinner and ktv wif nic, xl, afew of their friends.. realised that afew girls actually stay the same place as me.. tat is "woodlands" and they like clubbing.. so we exchange phone numbers and in future can share cab.. haha.. sat is also my last day at work.. took alot of pics and tot of posting up de.. but ytd dinner and dance i took more pics so i might as well post the dinner and dance one yea? but i wil post afew nice one first.. hwee, the engineering guy brought me n miao to the rooftop of fullerton and took nice senic views.. den our dearest ka brought us to the governor suite and 1 normal rooms to take pic.. me and wafi had a great time sia.. the most touching thing was tat my ka and chua bought me a fullerton bear.. when i first enter fullerton, i claim tat i love that bear.. den on our last day, they bought one for me and miao.. *huggis*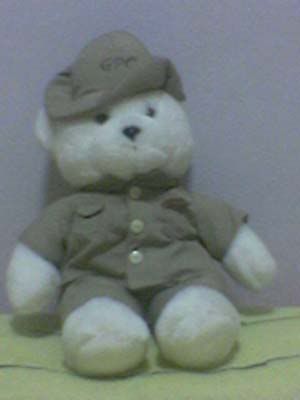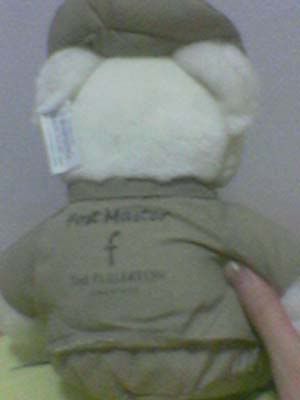 the bear they bought.. GPO stands for general post office.. hee..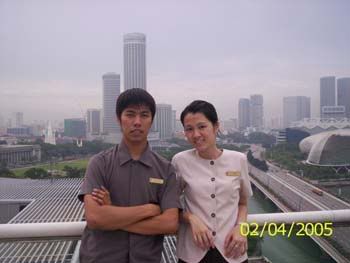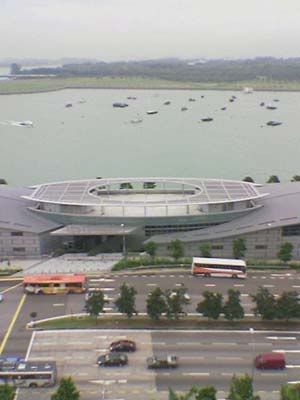 that engineering guy.. the view is nice rite? tat is the waterboat house..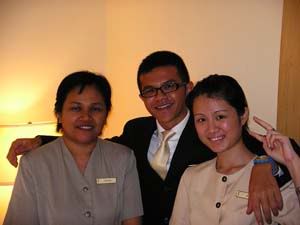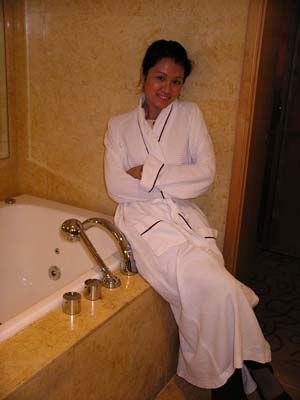 my beloved ka and they call me play wif the bathrobe.. buahahaha..
nth much on sun.. meetup wif ed awhile before he went to his shop..
mon: suppose to meet iris at 10am in sch but waited till 11am called her so many times, she finally picked up. den i ask her "stil slping ar?" she replied me saying tat now not 7.30am meh? her alarm clock stop.. LOL.. so after seeing my LO, i went city hall to find elaine eat lunch.. while waiting, i went mango.. ARGH.. their this range of clothes really very very nice leh.. i juz anyhow took 2 orange top and 2 pants in to try.. who knows all so nice!! the pants fitting damn nice and make my legs look long.. the material is smth like those drawstring pants de but its buckle de la.. so in the end, i bought 1 pant and 1 top which cost me $128!!! omfg..

i put in potrait den the pic becomes so small but bear wif it k? didn took a pic of the pants yet..
after tat went lunch wif edwin instead coz elaine cant leave her office.. den went home prepare for DINNER AND DANCE.. it was damn fun and happening leh.. everyone was so high and wild after 9pm.. guess it the alcohol ba.. ytd i wasnt sad.. i drank 4 lasses of white wine, 1 glass of red wine and 2 glass of beer and didn got drunk, only abit high nia.. coz my last day at fullerton, everyone toast me.. zzz.. moreover miao dun drink.. haha.. will post the pics once it is uploaded.. i no cam so i used 3 different ppl's cam.. the most fun part was the back part when we form two lines and dance ard the ballroom.. den thr was 15mins of dance.. as it was retro rendevous, it reminded me of ZOUK.. being like quite long nvr go le.. ard 12.15am, everything ends.. 7of us went to chinatown k-ster for ktv.. sang only like 2hrs til 3am den they close le.. keke, tats abt all le!!
Posted by jess at 12:55:00 PM
Friday, April 01, 2005
firstly, i wanna wish my haze jie HAPPY BELATED BIRTHDAY!! coz i didn update my blog ytd.. got recieve my sms ma jie?
mayb its coz i am growing stronger or mayb becoz of the late nite talk wif him? i dunno.. well, tmr wil be my last day at fullerton le.. kidda sad leh.. went front desk to take smth and all the ppl thr were like calling me to come baq work, all hug and wish me the best.. aiyo.. the hskp staffs oso.. ppl thr bully me den they say its gonna be the last time bullying u le.. haha.. so ytd me and wafi meet up wif one of the supervisor and got him to let us take pictures of Fullerton 2nd most ex suite and a normal room.. most pics are wif wafi but i took afew..
i love the bed the most le. thru hskp, i know how to make up this bed k? dun play play ar..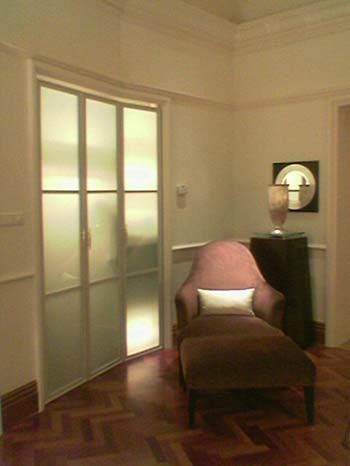 this is juz the walk-in wardrobe at the side.. damn cool!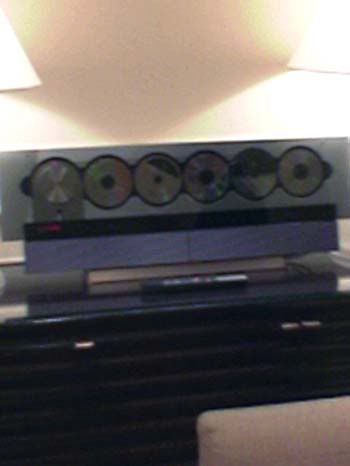 this is the hi-fi system tat i aim to buy one days. it cost more den a farking $3000. the brand i forgot le.. can be found at paragon de..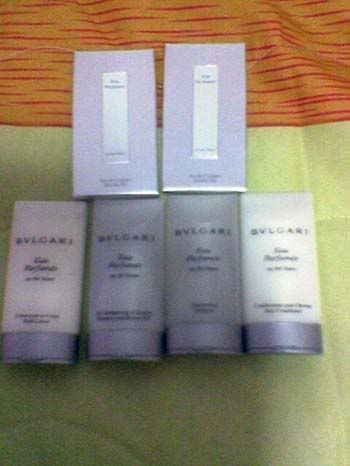 and the full set of amenties from Bvlgari i am keeping as momento.. *hee*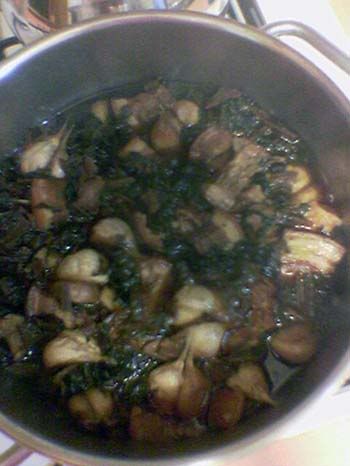 let u guys guess wad is this.. it is smth like the preserved vege but u cant find this in s'pore.. only in my hometown or rather my ancestor homeground den can find.. i missed this dish ever since my paternal grandpa passed away like 4yrs ago.. coz my uncle went baq to china, Da Pu to pay respect, he got all these again!! its so yummy wif the fats of the meat..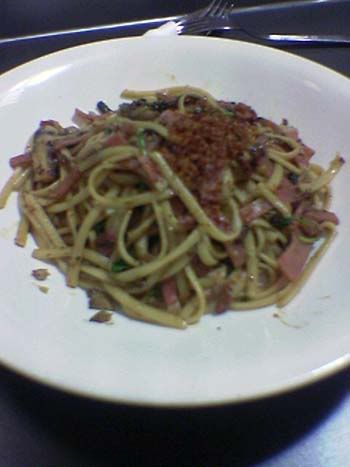 and this is wad me n iris ate at taka on tue.. bacon and ham aglio olio.. yummy!!
Posted by jess at 4:48:00 PM