Monday, March 28, 2005
i haven meet up wif him since last sat but this sat which is 2days ago, i gave in le.. was going thru a rough patch everyday.. imagine i used to talk to him at least an hr before sleeping every single nite and now its loneliness i hav to get used to.. thanx iris and xiong (my pri sch friend) for talking to me on 2nites.. other den going work, i stayed home.. met up wif jinting on fri for dinner at beauty world.. had curry fish head and potato leaves wif sambal.. didn hav a good apetite though.. den played pool wif her and xiong and headed home.
sat after work decided to meetup wif iris and elaine.. sorry sha coz it was a last min thingy.. had a good nite but well, me n iris however are stil unable to solve anything. ed called me the whole nite but i didn pick up. guess i was afraid to hear his voice? but eventually due to smth he sms me, i pick up his call.. i was so worried when he told me he vomitted blood.. he wil when he drink too much.. so i took a cab down to his hse.. so much happen when i was thr.. haix.. but me n him wil be impossible now.. he juz wan us to be friends.. =(
i guess i hav nvr really fallen out of love.. in my past r/s, guys gave in to me, gave me wadever i wan, treat me so nice but i didn appreciate.. guess this is the first time i hav to deal wif this so its gonna be difficult for me. like wad rong said to me, once u get past the first, the rest wil be easier.. but this experience hav given me the fear to fall in love..
stayed home whole day and had dinner wif my parent. they bought me to "zai lai restaurant" at sembawang.. it is well known for their fish head curry so i had it AGAIN.. we oso ordered fried beancurd (the sauce was damn delicious leh), fu rong egg and sharkfin soup (so thick and nice!!).. of coz this fish head curry is nicer den the bukit timah one.. like tat full meal cost ard $120.. actually not very ex coz the sharkfin already $20 per pax le.. =) i forgot to take pics coz we were so hungry and tucked in immediately..
Posted by jess at 1:31:00 PM
Friday, March 25, 2005
u nvr know wad has happened to me? i guess it could be even worse den wad u can imagined.. i hav found out smth from someone and confronted him.. guess its the truth now.. it sux u know? i wun say it out here coz i dun wanna throw ur face.. only my close friends wil know.. if u wan, approach me personally.. its the worst i hav been feeling for the last 19yrs.. i hate love.. its all abt betrayal.. fell down at the rd junction and nearly got knocked down by lorry.. had bad cuts and bruise on my legs.. at tat instant, i tot y tat lorry didn knock me over? sigh.. how stupid and dumb of me to even hav suicidal thoughts.. guess its the shock i discovered ba.. realised one thing tat most guys ard the age of 25 are the same.. i believe in karma.. and i know it wil come one day.. "cannot resist", "temptations" are all excuses.. but at least they are.. u hav no excuses but lies from the begining.. wad goes ard wil comes ard much more times worse for u.. u hav no idea how dead i am now.. how broken i am and how dried my tears are.. y muz u do this to me when u know i wil be so terribly hurt?
nway, on tue after my BPT test, went on an eating spree wif xl, rong and iris.. imagine 5 ppl eating 5dishes, 1 soup plus 7 bowls of rice.. rong and xl had 2 each and me n iris had 1 1/2.. *opps*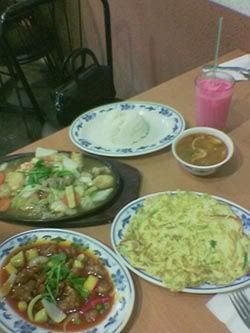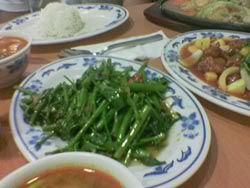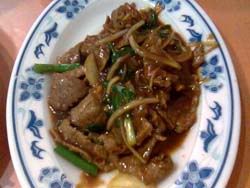 today morning woke up supper early at 630 coz go grandpa, grandma, great grandma to shao mu.. paternal side de.. this sun maternal side.. hmm..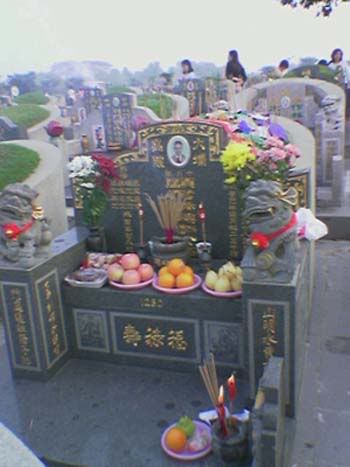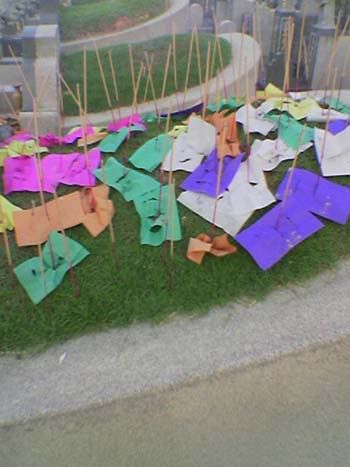 my grandpa de.. my ancestor are from china, Da Pu.. see i am always correct.. and i always wonder y they put the colourful paper on top of the grave.. anyone knows y??
a pic taken ytd when i am super duper sad and only my xiao ting dang is wif me.. cried my hearts out hugging it.. so muz take a pic.. though can only see me but u can imagine how big xiao ting dang is rite?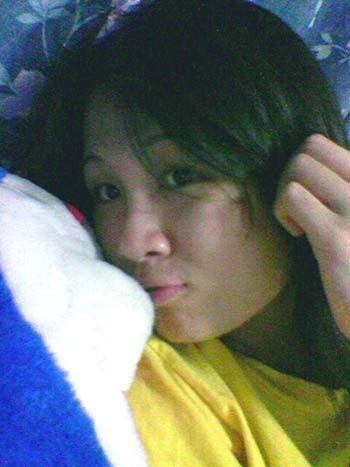 Posted by jess at 1:49:00 PM
Sunday, March 20, 2005
did i confess tat i ws drunk on sat? went devils bar.. tats all..
i bought my hp le!!! its a black N6260.. though its kidda big but i will get use to it.. i am juz so addicted to the bluetooth and mp3 functions.. juz bought a bluetooth adaptor to transfer pic and audio to and fro my com.. and thinking of buying a 256mb MNC card.. can store more songs and pics..
here's a pic of my phone..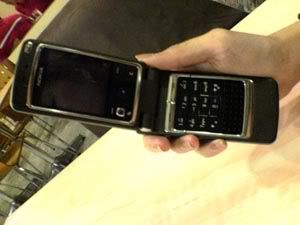 *opps* i wanna confess i bought a white bag in which i hav been eyeing for quite long le.. so i heck care juz bought it.. heehee.. here u go... ...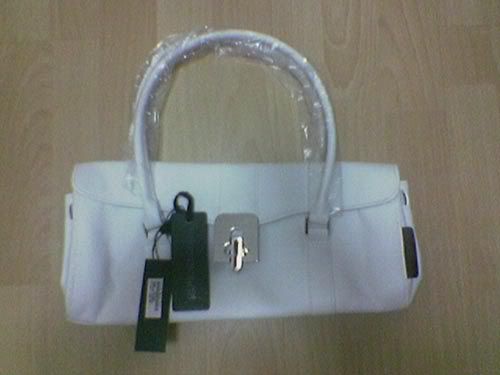 after buying phone, i turn so zhi lian.. guess its a normal process ba.. looking at the rate sha, iris, ling, ali, viv take pics.. compared to them, i am stil a beginner.. lolx..
let u compare the difference between 1.3mega pixels cam and my phone. 6260 is stil not so good when it comes to pic..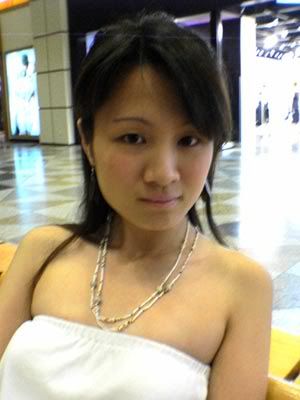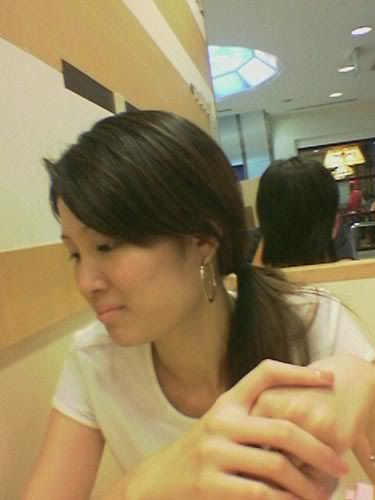 first pic is taken using 1.3maga pixels and second one is taken using my phone..
ate at phine's steakhouse for dinner on sat.. had tenderloin steak and half dozen of oyster shared.. total cost is ard $52.. hmmm, abit ex but ok la..
this pic is a complimentary for all devoted readers.. haha.. me in my uniform.. my stupid friend was playing wif my phone and took this.. hahaz..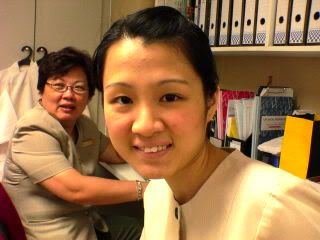 Posted by jess at 8:28:00 PM
Thursday, March 17, 2005
hmmm, i bought a bag AGAIN (y i am so into bag nowadays?) and a jacket.. coz i lost my black cardigan.. i juz placed it on the ironing board which is next to my locker for less den 3mins and its gone.. farker idiot.. whoever took my jacket wear le will get rashes sia.. *hmpf*
but dunno y my jacket and bag's pic turn out to be such ugly colours.. tink my webcam sux.. both are abt the same pink.. those dark dirty pink.. *heehee* the bag can be converted into a sling bag too! cute, tats y i bought..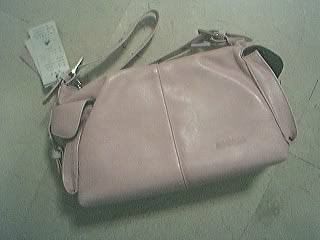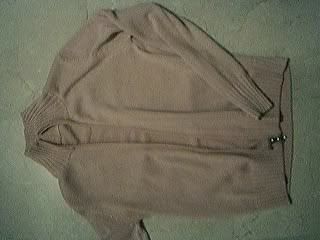 an update of myself!! curtesy of iris hp..dun worry, am gonna get a new phone soon.. anyone has got any idea which model to get? preferbly flip or slide phone of coz wif cam.. plus points wif bluetooth.. some models i hav in mind are
samsung E810C (but no bluetooth)
samsung E800C (abt the same as E810, no bluetooth oso)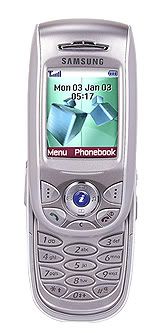 samsung D500 (nice!! but ex got i pay myself)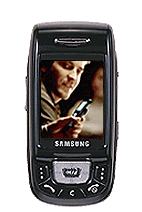 N6260 (big and fat sia)

N7270 (but no bluetooth)

Posted by jess at 7:48:00 PM
Monday, March 14, 2005
for the past few days, i hav been getting myself drunk.. sat after work, went drinking and got myself drunk home.. sun, went ktv and drank again.. i didn really drink alot but drink kinda fast.. i down a mug of beer within a min and another in less den 5mins.. didn got drunk but abit high enuff for me to slp.. i hav already made up my mind de.. everything was so fine and i was so strong until i heard his voice.. i cant do it, really cant..
Posted by jess at 10:44:00 AM
Saturday, March 12, 2005
juz read iris's blog and found out she bought alot of clothes and need help rite? i am so into buying shoes now too that i need help too!! how? this are the shoes i hav bought.. the first pair was bought by my mum.. i wore and find it comfortable, den just nice raffles place sold the pink one so i bought the pink one.. den i went into another shop oso at raffles place, saw that black wif green ribbons shoes, it was love at first sight and bought it too!! >.<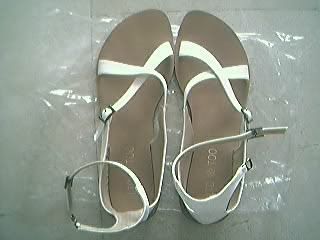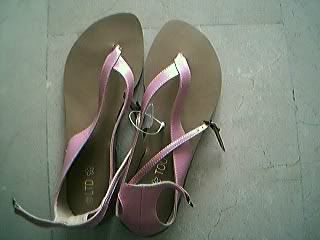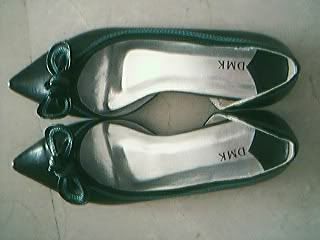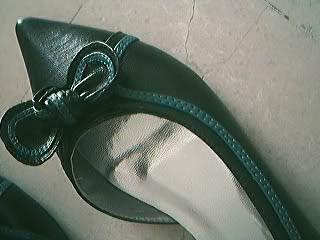 recently haven been updating alot coz my life is such a bore.. i am like iris now.. same situation, different prob.. i dunno wad to do.. one moment he is treating me so nice, one moment he is like MIA AGAIN!! i want to give up, to forget but it seems so difficult.. he re-entered into my life, gave me a moment of hope and ... ... i know i am the most stupid person on earth.. i had a talk wif him and realise smth.. i was so hurt u know? but i stil wanna stay.. wads wrong wif me sia????
only retails therapy heals me temporarily..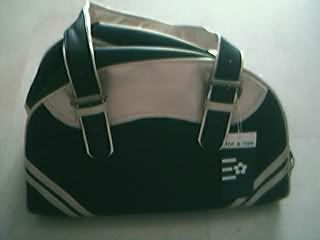 this is the plan tat me n iris took pains to draw up for our presentation for M.E.N dept store..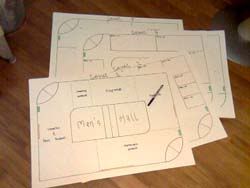 intro u guys a drink.. try it at Coffee club ONLY.. its earl grey tea wif vanilla ice cream.. its fantastic.. introed by ron.. i tried it at NYDC wif iris and it sux..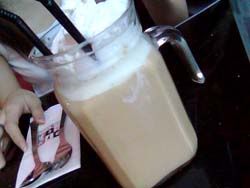 some pics taken after ppt.. i know i look very weird becoz of the colour combi but arghh.. who cares rite? lolx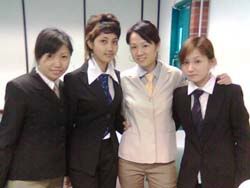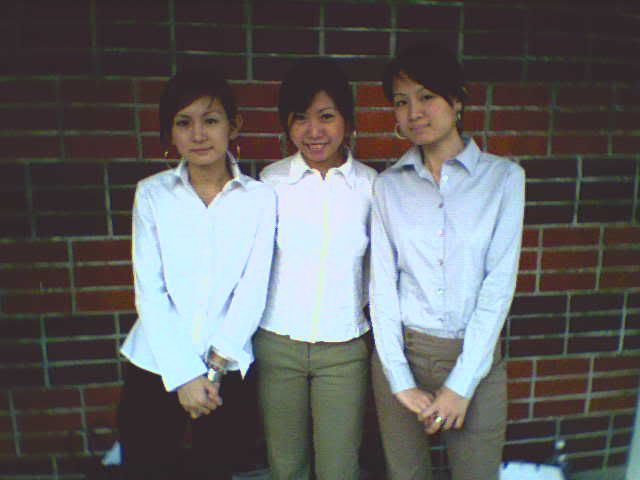 Posted by jess at 11:29:00 AM
Friday, March 04, 2005
as mentioned in my previous post, these are the items i wan rite?
this is the ring and a pair of earring.. i like the ring coz its quite thick.. very simple de, juz like a thick silver band..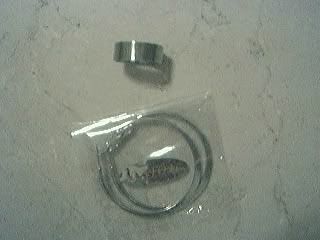 instead of a heels, i bought a pair of flats at m)phosis.. very nice orh..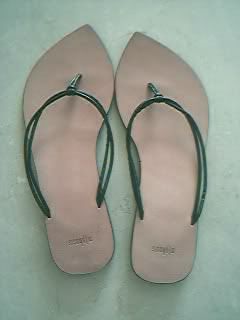 the eye shadows which i bought.. blue, green and purple..
my mum actually bought this bag from me.. she said it was on offer 30% so she bought.. its identical to the one i bought and it seems nicer leh.. hmpf..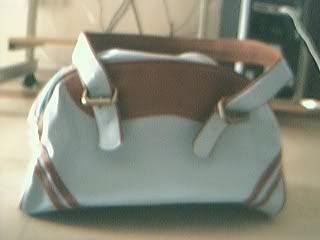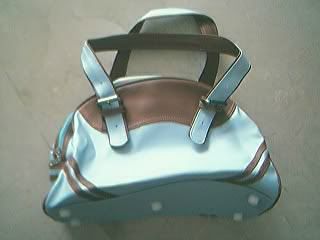 btw, i am sick.. down wif a very very flu, headache.. i hav no more attendance left for me to not go work but hav to take MC.. sob.. stuck at home and keep feeling like sleeping..
Posted by jess at 12:31:00 PM
Tuesday, March 01, 2005
wow, so long nvr update my blog le.. sorry blog for neglecting u.. lolx.. i am getting along fine but feel tat life is so empty w/o him by my side.. haix.. recently been spending alot coz whenever i am down, i wil juz shop.. how how? help me..
today had a presentation and i tink it went fairly well.. was in fact quite contended.. juz tat the tutor very niao.. the presentation is 20mins and she really timed it k? if we exceed, she wil minus marks coz she claimed tat we nvr rehearse before hand, as if we hav the time like that.. after tat, went shopping wif iris and elaine but elaine left wif marv after dinner.. as usual, wif me and iris ard, Sakura is one of our fav.. we ordered hotplate dried chilli chicken, hotplate beancurd and sambal kang kong lor..
these are the items i bought.. hav a look..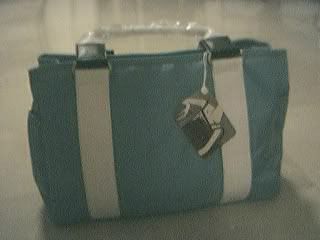 actually wanna buy earring from this shop but i spot this bag and its like instant liking for it.. so i bought it impulsely.. lesser den a min of though..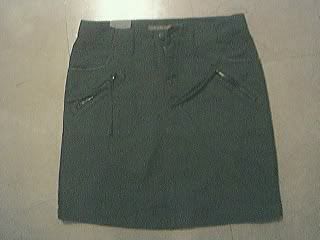 this skirt is from samuel and kelvin.. it may not look nice here but it looks great when u wear it.. the cutting is nice.. iris hor?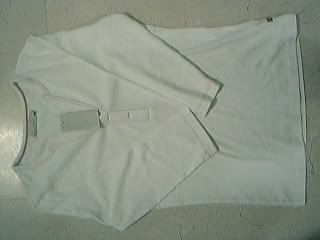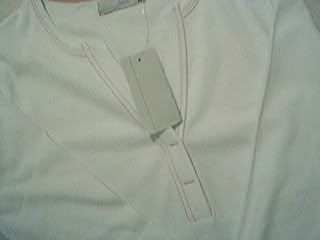 bought this top from U2 to match my purple skirt.. i like the orange lining.. can see?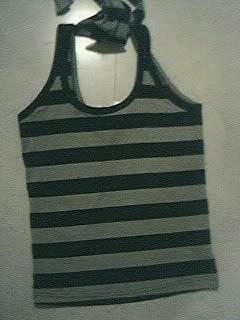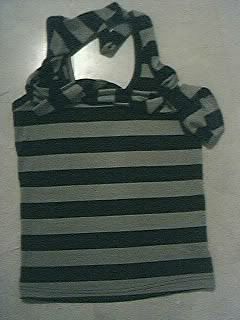 another top i bought from m)phosis.. the top is a mini scarf.. i prefer the green one but left wif L only coz sales so bo bian..
i am gonna go baq to a shop in far east to get a ring i wan.. and to m)phosis to buy heels... hiak.. after shopping, i feel so good.. but too bad its only a temporary effect.. zzz
Posted by jess at 11:38:00 PM