Wednesday, February 23, 2005
watched hike and seek ytd after my work.. it's only so so.. a very plain storyline and plot..
sat went chinablack wif iris, rong and jinting.. den saw xuan and her friends too! like wad iris mentioned in her blog, i oso got molested by 3 diff guys.. reason being we went to 3 diff spots to avoid guys.. zzz.. at first is back to back, then the guy turn den hug u from behind.. i wonder y is cb like that? and worse stil, thr is a door bitch who is so idiotic.. i tink her stomach is bigger den her chest and she stil wear top tat are so tight.. *omg* i dun feel like elaborating wad happen between her and us.. after tat, went to a coffee shop and packet food to rong's hse to eat den i went iris's hse stay overnight coz the following day we wil be going rong's hse for KTV!!
and btw, i got myself drunk tat day.. =(
i dunno y nowadays i always get drunk so easily.. ppl always say u get drunk easier when u r depressed.. guess thats very rite..
here are some pic taken while waiting for rong and iris to reach cb..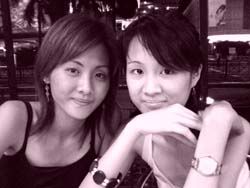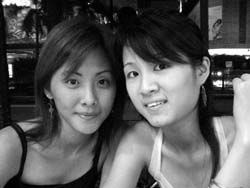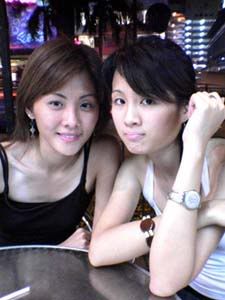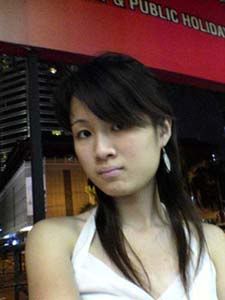 before going rong's hse, we accompany iris to search for a doc coz sunday alot of clinic nvr open.. den went to visit jolin (rong's niece).. she is such a dear girl.. she greet ppl wif "hi mum, hi jiejie, hi rong".. and she has tat wonderfully cute accent.. and when she play hide and seek wif me, i can die laughing.. juz ask iris n rong if u dun believe.. this sat they are going rong's hse for swimming but haix, i work 3-11pm.. pray can change shift, if not zzz..
die le la.. less den a wk before my proj and presentation due date and we are less den halfway done.. after work, already deadbeat le stil gotta do proj.. argh!!
i really miss him.. recently hav been crying myself to slp..
Posted by jess at 8:30:00 PM
Friday, February 18, 2005
watched constantine le.. it is a must watch!! really very nice plus the ever suave keenu reeves.. wonderful!! yea, meet up wif iris, kieran and ed after my work on vday.. had a drink at ermm, forgot wads the name le.. open a bottle of hennesey and only left less den a quarter.. imagine only me, iris and ed drink coz kieran gotta drive..
saw this at elaine's blog.. hmm, the flaws and virtues are quite true but the description abit out.. =)
A GARAGE-GURL. Youre into loud music, hot guys and
wild fashions. Youre most at ease when you've
got all your mates around you and you like to
party. Boys are a game and youre always on the
ball because you make sure you're always number
one.
Your virtues: Confidence, fun nature,
sociability.
Your flaws: Loudness, jealous tendency, need for
attention..
You almost certainly wouldn't like this game,
because it's not your thing:
www.life-blood.vze.com
What kind of girl are you?


Posted by jess at 10:36:00 PM


Monday, February 14, 2005

not much to talk abt oso.. haha.. except that i am better and much better le.. ever since my grandpa's death, i hav learn to look at things at a different view and be a happier person.. so dun worry for me.. i wil be strong for everyone's sake.. ytd my bro's friend, jing ling's mum fell down in the toilet and went into critical condition.. this morning ard 5am, she was pronounced dead.. a 16 year old girl w/o a mum at such an early age.. i cant imagine.. see, life is so unpredictable rite? her mum is only in her early fourties..

nway, let me wish everyone a HAPPY VALENTINES' DAY!! may all couples be blessed and all singles be blessed too.. dunno what talking me.. lolx..

early this morning, a florist came knocking at my door and send me a bouquet of flowers.. no name written so i dunno who was it from.. so mysterious, might as well tell me rite? imagine a bomb for me.. *scary*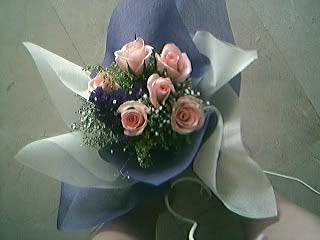 sat after my work met up wif iris awhile and went to our usual coffee club to hav coffee and chat coz she needs to be baq to sheraton by 615pm.. after that, i went shopping wif edwin..




jay's dvd.. buahahha.. shiok leh..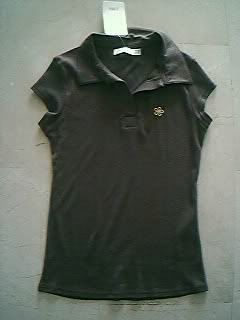 a top from ZARA.. thr are like 7colours? white, black, yellow, pink, brown, red, green.. ... the cutting is very nice and long enuff.. feel like buying afew more..

after shopping, went AJISEN ramen to hav dinner.. *yummy*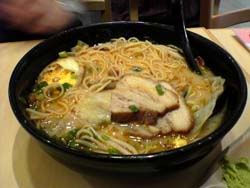 my volcano ramen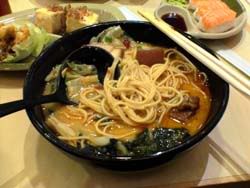 forgot wad ramen he ate le.. plus the fried tofu behind..


this is the fantastic mushroom volare at TCC..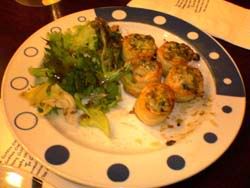 Posted by jess at 11:18:00 AM
Thursday, February 10, 2005

You have a surprise kiss! Your partner is always
pleasantly pleased to have you jump outta no
where to dote them with a fun peck on the cheek
or more passionate embrace. super markets and
work places are your favorite places to attack
your loved one with all your love =p



What kind of kiss are you?


brought to you by Quizilla


Posted by jess at 3:13:00 PM


Monday, February 07, 2005

thanx for the concern from everyone.. i am fine so dun worry.. today is the last day of the funeral.. gone thru alot and learn alot too.. it was so sad seeing ur love one being pushed into the furnal.. tmr hav to reach thr as early as 7am to collect the ash and urn..

went shopping wif viv and iris on last tue to buy happily buy my cny clothes.. who noes on thur, my grandpa pass away and i cant celebrate this yr cny.. nway, here are wad i bought..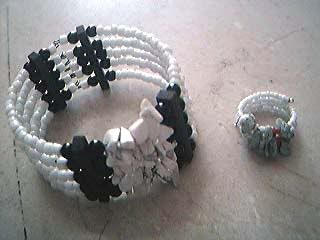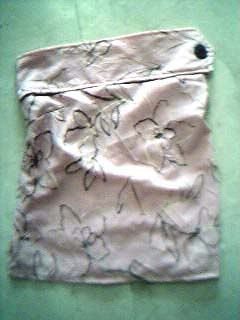 and a brown pants which i nvr take a pic..


my VS stuffs are here!!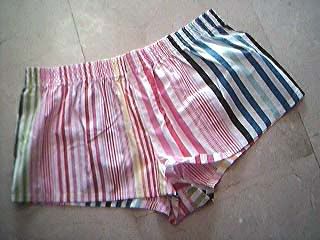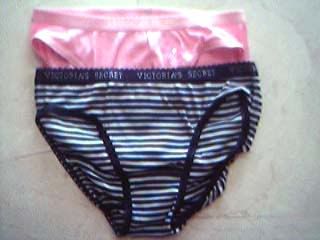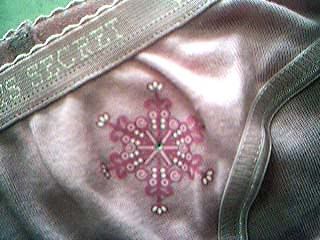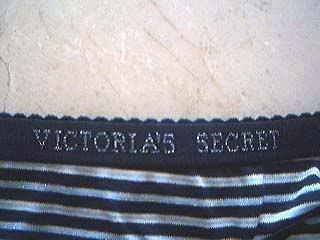 zoom in on both panties.. >.<

after the ceremony, went dinner wif my cousin at IMM and bought this GOLA shoe for $104 which is love at first sight.. the pics are so blur coz i used a webcam.. dun worry girls, coz i will be wearing it to sch tmr for u all to admire.. *hee*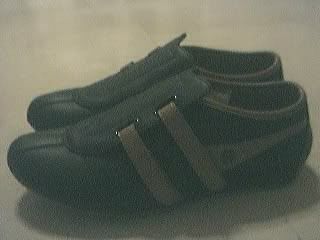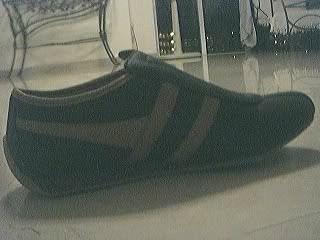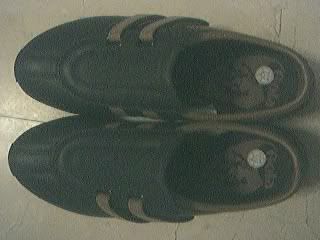 i feel that life is so empty w/o him.. i stil cant get over him though i hav so much things to worry and stress abt.. i cant do it..


Posted by jess at 9:38:00 PM


Thursday, February 03, 2005

he is gone.. my grandpa pass away today.. i juz got home to rest awhile coz gotta go baq to the wake later at nite.. haix.. actually ytd i ran off from work coz he was in a critical condition..he was already gasping for breath wif the help of a machine upon me reaching.. after i went home ard 12mn, i didn dare to slp for fear that my uncle wil call to say he's dead.. this morning 6am sharp, a call came and news broke.. my mum and i were at a loss.. totally dunno anything.. hands were cold, stomach fluttering.. when we reached the hospital, my grandpa was gone.. he lied wif eyes opened on his bed.. tears juz came to my eyes when i saw him.. y didn he wait for us to reach? haix..

my grandpa dotes on me and my mum so much.. he is really the best grandpa i hav in my entire life.. words cant describe how much i love him but i hav nvr told him i love him.. he didn even got a chance to see me start working and he's gone.. up til now, i stil cant accept that he's gone.. when i saw his face at the wake wif monks praying.. fresh tears came immediately..

a few weird incident happens and i wonder is it a coincidence or real. 2nites ago, my mum was jolt awake by a weird smell and when we went to visit my grandpa, it was the identical smell and soon after he went into a critical condition. last nite ard 5.50am, i dreamt that my grandpa used his hands to pull away the pipe.. juz when i was having the dream, my room phone rang and the bad news came..

so many things hav happen to me all of a sudden.. i really dunno how to cope wif everything.. i cant skip work coz i need 90% attendance.. i hav my proj to settle and my grandpa's stuffs.. someone teach me how to cope?


Posted by jess at 9:31:00 PM