Sunday, November 28, 2004
wanted to give dear a surprise by turning up at his shop coz he aint in a good mood coz of his family ba.. but juz as i was abt to leave home, i realise that he met someone instead.. i was so pissed off but decided not to say anything.. i even changed le.. zzz.. nvm, shall slp earlier tonight.. tmr stil gotta work..
arghh.. actually wanna paste a song lyrics here de.. but the chinese wordings cannot work eh.. the song is "wo zhen de yi wei" by Zhang Dong Liang.. the lyrics is very sad and i really feel this song.. the chorus goes like this "the person tot that by loving or giving twice the love, the past wil be erased.. by loving twice, the future no matter right or wrong, the love u hav for me is stil not strong enough.. u stil miss her but stil wan me.. tell me, how can u treat love this way?"
Posted by jess at 8:30:00 PM
thrus: forgot wad happen le.. shld be go home after work ba..
fri: took MC coz am having severe cramps.. and i dread going to work.. i hav uncountable brusies on my legs, hands and everywhr.. they are torturing us.. after work, went home.. fri and i am home.. wadever..
sat: today is the first day i am doing up the rooms on my own.. was suppose to make up 4 rooms.. it is so tough.. actually my working hours is from 8am-4pm but i could not finish in time so gotta do til 5.30pm and no OT de hoh.. if u cannot finish, its ur business.. they wun give a damn to u.. went bugis mos burer to sit and drink milk tea while waiting for dear to reach.. waited ard half hour for him.. after that, walk walk ard den proceed to eat dinner near the maggi thai restaurant.. that place food taste nicer den maggi restaurant.. we had hot plate oyster omelette, sambal kang kong and butter cereal prawns.. it was so yummy!!! here's a pic for u peeps..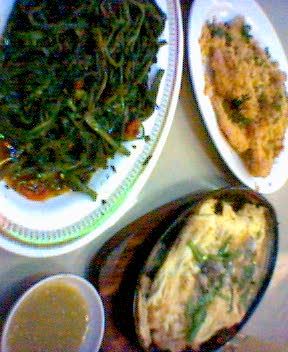 after that, went pool fusion for pool again.. saw that cute guy.. this time he wore a hairband and noe wad? i tot it was alvin when i first saw him.. alvin when he was in year 1 la.. when he stil not so ah pek.. *opps* shhh... ... here's an update of me.. haven seen my dalings in ages le.. in case u guys forget me.. lolx..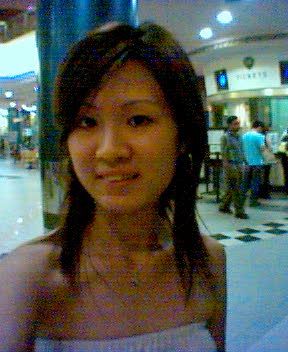 am gonna slack home today ba.. 2nd consecutives sunday off and i am home.. hmm.. save money ba.. =p
p.s. oh yar, do try the capuccinno mc flurry from mac.. nice..
Posted by jess at 1:26:00 PM
Wednesday, November 24, 2004
MODULE CODE
MODULE
GRADE
BA0060
FINANCIAL MANAGEMENT B
BA0203
MULTIMEDIA FOR MARKETING C
BA0200
TOURISM & HOSPITALITY LAW C
BA0176
GLOBAL BUSINESS ENVIRONMENT C+
BA0161
TRAVEL AGENCY MANAGEMENT D+
BA0159
CONVENTION MANAGEMENT D+
BLOODY HELL.. this is my grades.. it is the first time i got a D in my life.. sad sad.. somemore it's like i am quite confident of TAM.. i tot i wil get a bad grade for GBE but who noes i ended up wif a C+... sobsob.. i wanna die le la.. last sem gimme this type of grades.. if i noe, i wun study le.. *cries*
Posted by jess at 5:15:00 PM
Monday, November 22, 2004
today was better coz i hav more or less got the hang of it but stil physically demanding.. sha, we dun go paulerner.. i bring u girls to a place near somerset call "bar-stop" if i didn forget the name.. at first we tot it was some ulu ulu bar but the ambience, drinks and finger food are nice esp the chicken wings!! they are good.. i went wif edwin and mark last wk.. i had a strawtini.. the drinks are damn strong and they served wine too.. >.< most impt, it is not ex.. lolx..
to elaborate abt chih wee, rong: he is our IC for attachment de.. to start off, chih wee didn reply fullerton email when they sent a confirmation letter that they are able to hire 6ppl in the F&B and front office dept.. but chih wee didn reply the email.. 2nd time fullerton emailed to chih wee, he replied that he is not sure if he wan to send ppl to fullerton.. *DUHZ*
and such, fullerton was angry and decide not to take in any one of us but chih wee told them that they can placed us anywhr as the F&B dept was full le.. so after some begging, i got in together wif miao yan and wafi into the house-keeping dept.. bloody farker!!! if not now i can work wif my darlings and best is NOT in housekeeping...
well, anyway i went out wif my family ytd.. bought a gio polo tee and had dinner at a famous chicken rice stall between chinatown and bras basah.. their wanton soup very very nice.. hee..
Posted by jess at 6:02:00 PM
Sunday, November 21, 2004
today is my only off day for the week and here i am, gonna stay home for the whole day and rot.. coz ed is not free.. recently ever since i start work, i hav become quite moody at times.. guess its the heavy and physical work load plus tiredness.. and i need ppl to understand and dote on me more.. i hav no chance to dress up nice nice or style my hair nice nice when i go out all other days.. actually plan to style my hair coz i bought hairspray and wear a dress for dear de but all is ruin.. yea, i am suffering from a B.F. (bitch fit) but i dun care so much le.. i had history of back problems and i was discharged when i was in sec4 but after working, it seems like coming back again.. ytd, my back juz above my butt hurts til i cant walk.. had to sit and every now and then to rest.. sobsob.. hope that i get a chance to go out if not i wil die of boredom at home.. zzz..
sat
ytd after work went dear's shop to look for him.. his parent were thr and i feel so paiseh coz he la, say i hungry and his parent call me to eat thr.. guess they are quite nice ppl after all and his dad is forever laughing even when he kanna scolded, happy or wadever.. ard 8.30, we reached pool fusion for some pool.. iris: that yandao kia is that and he is so cutee! lolz.. after pool, went al-ameen for supper.. had pattaya rice, kampling soup wif bread and teh cino..
Posted by jess at 1:03:00 PM
Saturday, November 20, 2004
sobsob.. totally no energy and strength to update my blog.. ever since my first day of work, it was physically and mentally challenged.. i am in the house-keeping dept.. bull shit!! had to make the bed, clean toilets etc.. the bed is god damn heavy and the comforter is so hard to make.. and damn fullerton for their high standard.. i followed an aunty first in which we had to clean 15rooms per day.. ytd when i am home, i took a cab home coz i was not able to move.. today after work, bathe at fullerton den meet dear for dinner at Fish&Co.. had the seafood platter FOR 2.. buahaha.. so full.. wad is worse is that fullerton is a 6day wk work.. sianz.. tmr stil gotta work from 8-4.. if i stil dun bathe, i am gonna die tmr.. thats all.. sorry for the little and long updates coz am really K.O...
Posted by jess at 1:10:00 AM
Tuesday, November 16, 2004
why are some ppl so selfish? i really dun understand y and how they do it.. they are the ones who requested for a break up and move on very well themself.. when they see that their past other half moving on, they try to break things up.. when the guy has decided to give up and move on, the girl wans him back.. in movies, reality, series all are like this..
a song by avril lavigne.. a part of the lyrics..
Fall back, take a look at me and you'll seeI'm for real,
I feel what only I can feel and if that don't appeal to you
Let me know and I'll go cuz I flow
better when my colors show,
and that's the way it has to be.
Honestly, cuz creativity could never bloom in my room
I'd throw it all away before I lie,
So don't call me with a compromise
Hang up the phone I've got a backbone stronger than yours.
(step up) la la... (step up) la la... (step up) La la...
Yeah...
If you're tryin' to turn me into someone else
It's easy to see I'm not down with that
(Not nobody's fool) I'm not nobody's fool
If you're tryin' to turn me into something else
I've seen it enough and I'm over that
(Not nobodys fool) I'm not nobody's fool
If you wanna bring me down
Go ahead and try
Go ahead and try.
Posted by jess at 9:29:00 PM
Monday, November 15, 2004
stayed home on friday...
sat
met dear ard 5 den head down to far east for chicken rice.. this wk is dear's turn to hav a craving for that.. den we went suntec coz we wanted to buy tix for "shutter".. at suntec, dear was so close to buying his S700 handphone but at the last min, the shop owner say cannot use debit card, muz credit card.. so thr goes his dream.. haha.. bought a 9.45pm tix for "shutter" at marina square.. while waiting, went up to dear's office to nua.. the show is good.. i tink it's better den the past thai horror movies.. me n dear got shocked quite afew times.. but the plot is typical ghost stories plot lor.. i wil rate it 3.5/5.. after that we went home..
sun
didn meet up wif anyone today.. it is a slacking day for me.. played maple story almost the whole day.. at nite, while waiting for iris to reach the town to take a "family" pic.. i went ard exploring.. lolx.. mind u, i am only a lvl 21 k? and i chance upon this 2 mobs.. omg, i risk my life by going so near to them juz to take a screenshot.. lolx.. let u guys hav a peep..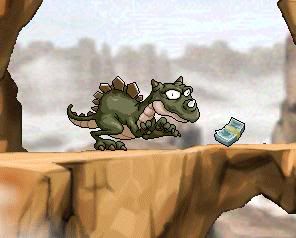 this is the dragon..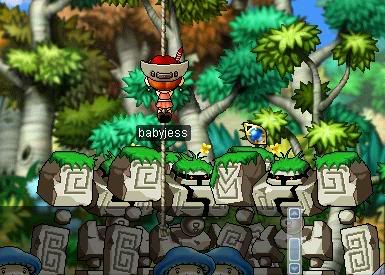 and this are dunno wad.. stone like human.. and that's me hanging on the rope.. lolx..
mon
feeling damn sianz coz tmr start attachment le.. wil hav no time for dear and my darlings.. sobsob.. weekend will be burnt.. *sigh* to make things worse, the pathetic salary.. luckily am meeting my dear later on..
Posted by jess at 1:19:00 PM
Thursday, November 11, 2004
these few days alot of stuffs happened to me.. guess only those close to me wil noe ba. other den that i dun wish to elaborate.. but however, things are sorta alrite now but stil not exactly solved.. well, wad i can to do control rite? i cannot do anything.. i hav seen thru so many things in my life and hav gone thru many rough patches.. i totally understand how certain ppl feel at certain moment and everyone deserves a chance at least rite? thanx to nic, xl and iris who accompany me thru the day and watch princess diary II wif me.. it was a nice show.. while waiting for the show to start, we went LIPS for our dinner.. had hot choco, clamari, fried prawn, cakes.. refer to iris's blog for pics.. lolx..
ytd actually planned to go zouk wif iris, rong and shirley (rong's friend) but saw xing long thr.. upon reaching zouk, it was damn damn packed.. the queue was all the way to the carpark and the queue was not moving.. thanx to iris, we squeezed all the way to the front of the queue juz outside zouk but the irritatin ppl say thr is no more selling of tix.. we waited for more den 1hr thr leh.. end up we took cab to devils and luckily rong noe some bouncer thr if not we wun get a chance to even smell devils.. lolx.. the drinks thr are damn ex leh but quick strong.. me n iris left at 4.15am and dear came to join me for supper.. thanx nic for driving us for supper and home..
wad shld i do?
Posted by jess at 9:40:00 PM
Monday, November 08, 2004
buahaha.. exams end le.. when i tried to read thru iris, elaine n rong's blogs, i realise we hav the same common thing.. we haven being updating it for like at least 3days.. for me is 4days coz am so busy going out.. lolx..
fri
the paper was not too bad but cant remember alot of stuffs coz whole brain only on shopping.. after our paper, went to our proposed shopping wif iris!! shops which we went to can be referred to in iris's blog.. lolx.. tink ard 15shops? *opps* imagine we shop from 12-7pm.. den i meet dear after that ard 8pm.. went to buttercup cafe to slack.. drank latte n mocha plus terriyaki chicken balls.. *yuckz* i hate that place.. its the second time they dun hav my potato wedges le.. reached home early ard 12.10am..
in between, me n iris had our lunch at yushinoya ard 2.30pm.. we were damn hungry but insisted on shopping thru a few shops first.. i had the stupid new "kaki-age" rice bowl.. not really that nice leh..
after meetin up wif rong, we oso did went to ya kun to rest our legs and we ordered 3sets in total.. oh my, rong is like me n iris.. she can eat alot wor!! lolx..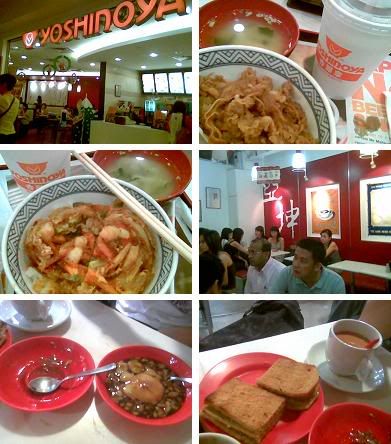 take a look at this pic.. the beef bowl.. u notice that only half the bowl taken? coz iris had already start eatting when i reminded her to take pics.. pig rite? noe y we say rong pig? look at the eggs n empty plates plus the toast and tea.. all hers!! coz iris dun dare eat half boiled eggs.. =p
for today, i bought a jacket and blusher and a black tee from gio..
sat
meet dear 4 at his house thr den took a bus to orchard.. continue shopping.. actually the main intention is to accompany dear buy his stuffs de but end up he spot for me a few skirts which is damn unique and nice.. its a floral wrapped skirt from "ming".. dear and me liked it alot but its $70 plus nid alteration.. so hmmm... but most prob i wil get it ba.. dear bought a ring.. its very stylish and its square.. really love it but too man for me le.. had chicken rice at far east den went to fullerton's courtyard to drink wine and relax thr.. it was meant to be a surprise from dear but i was smart la.. i drank the dessert wine which taste very nice and dear had port.. during our stay thr, haze called dear saying she wil be going to her workplace later.. so we slowly made our way to "wow" find haze and 2 of her friends.. ordered a jug of beer for dear, myself n haze.. hmm, sang 1 or 2 songs thr.. time passed so fast and its 3am le so me n dear went off first lor.. sat at the benches outside near the river thr for awhile den dear sent me home..
sun
the next morning i woke up.. headache leh.. dunno y leh coz only drank quite little.. i tink wine cannot mix wif beer ba.. lolx.. meet dear at 6plus to play pool coz my class gathering cancelled.. after pool, went bukit timah hawker to eat.. wahlau, we both had our dinner le leh.. ate satay and oyster egg.. den went home lo..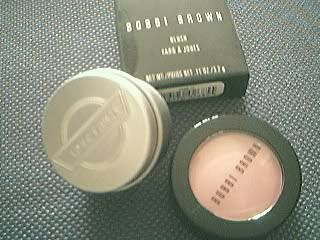 the silver case is dear's ring..
later i stil gotta proceed to fullerton for uniform fitting.. sianz.. gonna eat lunch and ms abit le.. =p
some pics taken when i feel bored ytd.. hee..
see my hair long le..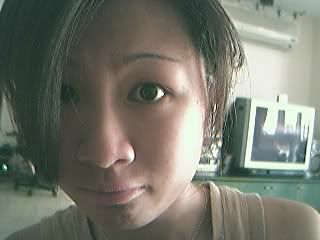 Posted by jess at 11:18:00 AM
Thursday, November 04, 2004
well, wed paper sux!! and its big time leh.. the paper was the hardest!! argh.. i studies this topic the most and this is wad i get.. tmr is my global business environment which is the subj which i hate and dun understand most.. duhz.. and i dun feel like studying.. how how?? rot at home the whole day playing MS and watching tv.. *opps*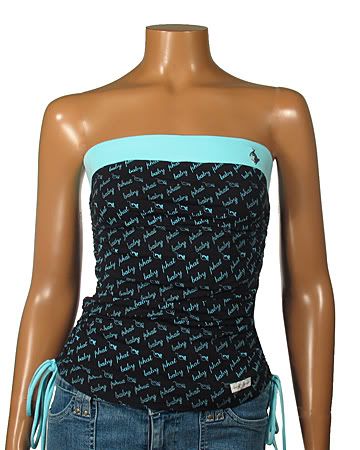 i love this tube.. but den the 2 ribbons at the side abit weird though..
look at my clothings.. i juz spent so much money on those.. and for lazy bums, there are even cabbies.. lolx..
actually the main purpose of posting MS shots are to tempt iris de!! buahaha..
Posted by jess at 4:56:00 PM
Tuesday, November 02, 2004
spent the entire sunday playing maple story (MS).. only at nite den i quickly read thru the notes for ytd's CM paper.. the paper was alright.. luckily its not as difficult as i expected.. phew.. here are some pics from MS..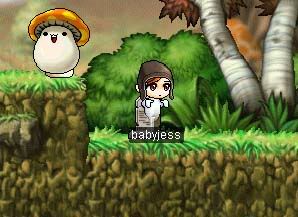 this is me kanna killed by that stupid mushroom beside me!!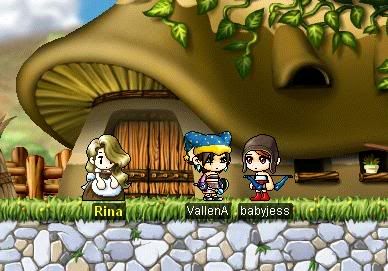 as u all can see, one is val, the other is me.. she so pretty whereas i am so ugly.. ugly clothes and hat..
ytd noon dear ask me wad i feel like eating for dinner and i said sushi.. den he say he purposely wan to eat that for dinner to tempt me!! lolx.. den later he say casually that "ok la, i go woodlands eat wif u lor." i tot he was kidding wif me.. but ard 7.30, he told me he on his way to woodlands and told me to meet him in half an hour time. i was so shocked.. quickly go change and rush to meet him.. went sakae sushi for my supper.. lolx.. really feel so bad making him leave his office early and coming to woodlands though he's so tired.. but nway, thanx dear!
juz ate my lunch actually.. cooked myself a bowl of duck noodles.. look at the side dishes that i put in.. lolx..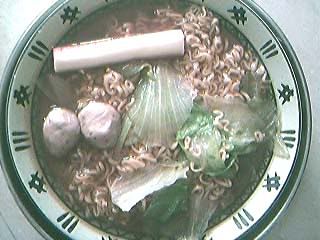 Posted by jess at 1:13:00 PM