Sunday, October 31, 2004
as of ytd, i hav started to play maple story.. will show u a pic of my character inside k? but later la..tmr is my convention mgmt paper. after reading thru the lecture notes, i looked at my past yr paper and found out that i duno quite alot of qns.. die eh, even wif lecture notes wif me i stil cant do it.. had a fun day ytd though..
sat: meet up wif iris and viv at heeren ard 2. they each bought an item.. initailly i wanted to shop for clothings but its already past our ktv time le so made our way to old chang kee and bought some stuffs and headed towards partyworld.. one of the guy extended our hour to 6.30 instead of 6pm.. *hiak* dear join us ard 3.30 and billy joined at 5.30 ba.. after ktv, decided to go coffee club express for dinner.. had the garlic prawn spagetti plus mango tango drink.. its juz so delicious.. i juz love coffee club express.. lolx.. after that, i accompany dear to his office to get baq some stuffs while they went on their ways.. played pool wif dear til dave reached den i took cab home.. omg, i spent like $60 on ytd alone.. luckily now is exam period so i spent lesser if not sure bankrupt..
sun: gonna play ms now lor.. all thanx to ling,i am officially addicted now.. iris, quick dl and join us.. hee.. all muz gimme all ur luck.. lolx..
Posted by jess at 8:02:00 PM
Friday, October 29, 2004
hiax.. shld be studying now but no mood.. shit man.. juz ate "nasi pattaya".. *yumyum*
well, ytd paper was alright but they shld attach more acts.. alot of things i wanna refer but cant quote coz i forgot.. after exam, went k-pool play wif elaine. awhile later billy n iris joined us.. i stil can remember that stupid billy's grin on his face.. but nevertheless, due to my very good luck and the determination to prove billy wrong, i won him a round.. haha.. after that, went suntec look for dear den had dinner at raffles city foodcourt.. ate their "thai fried noodles" which is equal to "phad thai".. lolx.. den took a bus home lo..
while being very bo liao, i took a few pics.. i noe u guys wil scold me but hiak, i dun care.. =p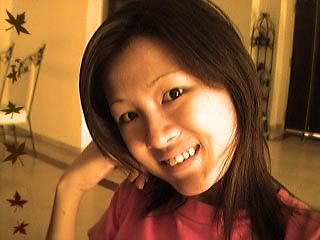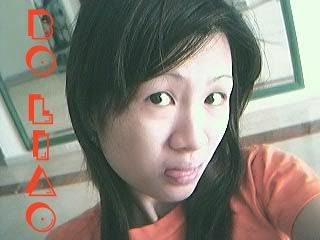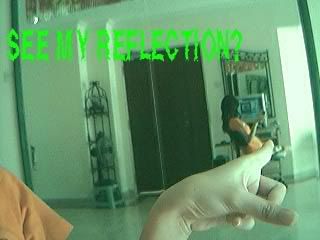 i took this pic wif reasons de.. that time when ling, iris and sha came my house for project, they were looking at this to see if they can see the 13th reflection.. lolx..
Posted by jess at 1:14:00 PM
Wednesday, October 27, 2004
actually nothing to post de.. juz wanna tell u guys how lazy i am.. i haven start revision on my THL paper which is tmr 2pm.. after i blog, i wil study de.. dun pinch or piak me k k? woke up ard 11.30 den suddenly feel like cooking.. so i cooked pasta with mushroom and cream sauce with some ingredients of coz la.. and i ate finish everything even the sauce oso all gone le.. buahaha.. here's the pic!! even my dear dear oso say looks nice.. *yummy*
initally i wanted to cook this for dear de.. but the sauce i bought very long le. den mummy say nov expire le call me quickly finish it.. so heehee...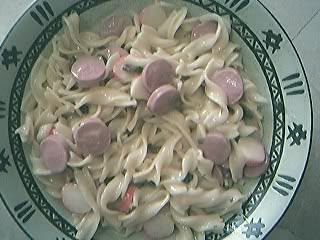 Posted by jess at 1:45:00 PM
Tuesday, October 26, 2004
juz had my fm exam today.. i practised quite alot of qns but came out alot of theory and the qns are not as direct as i tink it is.. but who cares, one down!! i hav totally no mood to study anymore.. reached home ard 5.30, bathe and took a nap, had dinner and now am online. i wanted to watch "champions" 9pm, channel 8 show but my daddy is watching vcd.. arghh!!
exams haven end and alot of ppl are planning for wad to do on the 5th.. haha.. tinking of it livens me up.. in another 15mins, guess i wil try to read through the lecture notes.. upcoming is "tourism and hospitality law"
Posted by jess at 9:18:00 PM
Sunday, October 24, 2004
well, am suppose to be studying de but due to some reason, laziness juz became an excuse for me.. zzz..
sat: went dear's house to scan some pics but his com spoil.. suay me rite? den waited for ron to reach and drove us for pool and dinner.. had dinner at an ulu ulu place and ate "zhi char".. not bad.. nice nice.. we had so much dishes.. 3 ppl only and we had spare ribs, hotplate beancurd, curry fish head, vege.. *opps* after that ron drove us to my house nearby coz he meeting his friends.. had a long walk wif dear and talk lor.. after that he meet his friends for pool while i went home.. haix, i wanted to take pics of those food de that unfortunately, we tucked in before i remembered.. bleahz.. someone pls make me study hard.. sigh..
Posted by jess at 9:25:00 PM
Friday, October 22, 2004
omg.. i am so sorry esp to my darlings (those who tag me) to make u guys worried for me.. i was kidda in a down mood that day but am fine le.. really thanx.. u all make my day so bright and meaningly.. haix, i couldn't sit down and study for more den an hour coz too many distractions le (com, vcds...) well, ling, dun tink so much k? for now, pls study hard coz it is gonna be our last sem wif exams le.. no matter wad happen, u live for urself rite? dun care abt rumours or ppl back-stabbing u.. its their choice and if they see that u r affected, they would tink that they win rite? u stil hav us so smile k? >.<
wed, i went high court to find dear while he is setting up the equipments.. help him a bit and felt proud.. lolx.. after that, went dinner at Lau Pa Sak again wif the same ppl (calvin, elaine who is ed's collegue, kate and me) had sting ray again, satay, kang kong, sambal sotong.. yum yum..
ytd my dear edwin was so sweet. though he had production til 10, he took a cab from his office to come all the way to my house downstairs to hav a drink wif me.. am so so happy to be able to see him.. *muackz*
today am suppose to go sch for the going through of exam papers but i overslept.. i set my alarm at 8 but it didn rang.. so ended up didn went lo.. actually wanna take cab thr de but ling n sha stil sleeping and iris didn pick up my phone.. all the way til now stil haven call me baq!! lolx.. from morning til now, i hav not study a single bit.. watched another 2 episodes of dolphin bay, ate lunch and online til now.. zzz.. dead meat le rite? dunno if i am going out later anot?
p.s. everyone muz jia you ok? iris, dun go out so often ar.. ling, dun play so much maple story.. rong, dun keep talking to iris only hoh, wad abt me? good luck too! haha.. sha, dun spend too much time wif fai.. as for the rest, clar, wendy, xl, study hard!!!
Posted by jess at 2:47:00 PM
Thursday, October 21, 2004
feeling so vulnerable now.. dunno wad the hell is happening to me?? feel like crying, leaning over a shoulder and cry my hearts out.. listening to "xing fu de shun jian" now.. sobbing..
Posted by jess at 1:04:00 AM
Tuesday, October 19, 2004
haix, my test is gone.. no matter how i count, its stil ard 30marks/100.. die le.. but heng i only nid 30marks to get a C.. pray i can get that.. up til now i stil haven start studying all thanks to "dolphin bay".. its so addictive and i am like crying non-stop de.. tink after blogging i shall start abit of revision if not i feel damn bad sia.. my poor dear is so stressed up at work that he look so haggard.. mayb i shall cook for him on wed.. *hee*
anyway, after our mfm test, me, iris n ling went to print past year exam papers den proceed to holland village to hav our dinner.. we ate so much..
ipoh hor fun which ling loves so much..
wu xiang which is only average...
and the worse ever sting ray i ever eaten.. the fish taste like chicken breast meat.. and the chilli is not nice at all.. yuckz..
Posted by jess at 1:21:00 PM
Monday, October 18, 2004
hav been watching the dolphin bay.. i noe i am outdated, dunnid to spell out k? hee.. this show is like so touching.. damn, wonder if i am too emotional or wad. i juz watched finish 6 episode but hav drop tears for like so many times leh.. those who watch, do u all drop tears as often.. weak me leh.. am gonna get rdy go sch for my mfm test.. didn even study coz dunno wad to study.. i wan be a good girl which means after the test, am gonna book a lab and print some exam papers.. yea.. nway, got this from sha's blog.. some are quite true like the event organiser, flight attendance, teacher.. but the rest like floral designer.. yuckz.. lolx..
Outgoing (E) 76.67% Withdrawn (I) 23.33%
Realistic (S) 53.13% Imaginative (N) 46.88%
Emotional (F) 53.33% Intellectual (T) 46.67%
Improvised (P) 58.97% Organized (J) 41.03%

You are an Entertainer, possible professions include - veterinarian, flight attendant, floral designer, real estate agent, child care provider, social worker, fundraiser, athletic coach, musician, secretary, receptionist, special events producer, teacher
Take Free Career Inventory Personality Test
personality tests by similarminds.com
Posted by jess at 1:47:00 PM
Sunday, October 17, 2004
zzz.. y am i always updating things that happen the past few days? hmm, mayb i am juz plain lazy? well, who cares as long as i update rite?
on fri, juz when i tot we could go play pool after sch, our proj crop up.. we re-burn like 5times before we can submit.. first time, here error, second time, thr error.. sianz.. by the time we summited our proj, its already 8.15 le.. so deciede to take cab to find my dear at suntec.. who noes, the entire journey was so long that if i take a train, it would hav been faster coz waited very long for cab n the cabby drove so slow.. drop elaine n marv at orchard while iris at balestier.. when meet up wif dear, its like 9 le.. my heart almost stop when iris sms say that "my guy is in danger zone".. at first, i tot who she referring to and my heart misseed a beat.. later to noe that she is actually referring to sylvester of singapore idol.. but heng, he is stil in the competition.. *haha* nway, i stil got to eat the wanton noodles at suntec.. *yummy* its nice but too spicy la.. den went pacific coffee, we ate potato salad, crossiore and coffees.. *so pig* den home we went..
sat: went suntec find dear ard 4 as he had to work ma.. poor thing hor? den proceed to orchard to collect my zara pants, walk walk ard den ate dinner at the tuk tuk kitchen which sells thai food.. following, accompany dear to "chapter 2" at bugis for haircut since sha say its good but no photos de eh!! den went bukit timah plaza play pool.. my sec sch mates "xiao qi, teck, zhijie" are so nice.. they came and find me.. so long nvr see them le eh.. they went off ard 1am and i accompany dear wif mark, jerr, idiotic dave till 2.30 den went home..
sun: and now so early in the morning, i am awake coz i accompany my parent eat breakfast.. i am so sleepy think i gonna get baq to slp for another short while.. *hiak*
Posted by jess at 9:30:00 AM
Friday, October 15, 2004
well, am in sch now.. hmm, so late didn update blog but very lazy to do so oso eh.. lolx.. well, nth much happen anyway except for doing projects ma.. but no worries, after today i hav to concentrate on exams le.. didn meet dear on tues coz my mum msg me n told me she nearly fainted while cooking therefore i rush home asap.. wed, we had our wine etiquette lesson.. me n iris drank quite alot and its free coz alot of ppl cant really drink or dun like red/white wine.. after that, went orchard wif iris to shop for her cardigan at far east and she bought 2tops.. haha, on wed she spent more den me.. den after that, she brought me to a spagetti shop at taka for aglio olio spagetti.. *yummy* after dinner, went suntec find dear and realise he had such a bad day.. *sayang*
thrus: rush thru my mfm proj coz last minute alot of things crop up. initailly dear told me he meetin his poly friends den later on he say can meet me le.. but being such a stupid gurl, i didn noe that dear put everything aside juz to meet me, i tot his friends cancelled it.. coz i had to rush proj, i cant meet him.. feel so bad the whole nite.. so sorry ar..
here's a pic taken on wed of me and my darlings before our Convention Mgmt presentation.. damn formal ya? but so smart and nice.. *grinz*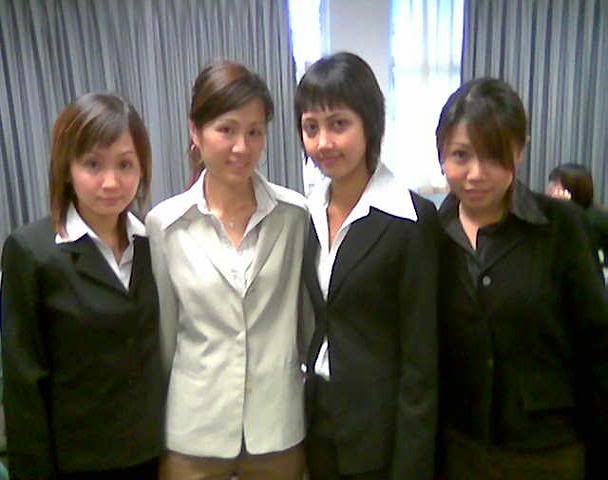 later most prob will be go pool fusion play pool awhile before going dear's company find him.. miss dear dear so much..
Posted by jess at 3:30:00 PM
Tuesday, October 12, 2004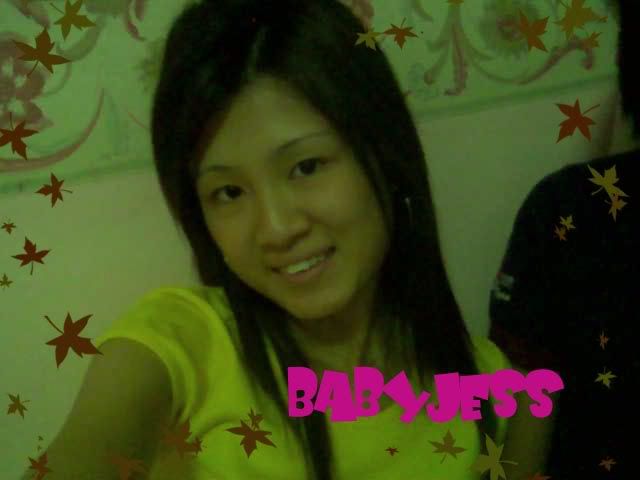 well, did i improve on my photoshop skills? pray hard.. lolx..
Posted by jess at 11:22:00 PM
well, actually coming to lab do proj de but well, smth crop up and we decided not to do le.. i might be meeting jinting and mayb i gonna do smth sweet for my dear later.. hiak.. dun tink he can read my mind though.. hahaz.. as promised, here's the pic we took wif jeassea.. she is so pretty.. exams are round the corner.. one of my friend, joey, asked me today whether i start revising le ma.. so i said no.. and she goes, "omg, dun lie to me eh.. in 13 days will be our exams le.." haha.. well, i muz be a gd girl.. let me play finish k and i shall start next wk hao ma? >.<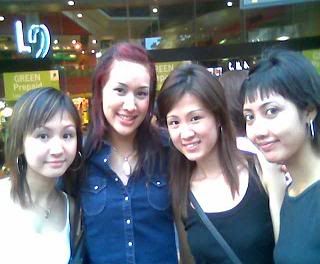 notice: does sha hav double chin? haha.. iris claim that she has.. lolx..
Posted by jess at 5:13:00 PM
Sunday, October 10, 2004
haix.. didn went to euphoria after all.. sha n fai wanted to go cine for the "singapore idol" thingy.. while marv n elaine slack till they too lazy to go.. moreover, they wanna go chinablack.. zzz.. basically, meet up wif iris ard 6pm.. went to outside cine meet sha n fai.. we saw afew idols including one of my fav jeassea!! me, iris and sha took pic wif her.. she is so pretty.. didn had a chance to take wif sylvester de.. den went wheelock zara wif iris to meet dear.. i bought a pin strip pants from zara but nid to alter coz too long le.. den went sakura for dinner.. *yummy* me n iris did some shopping and we each bought a top.. omg, spent abt $100 juz on sat alone.. die.. proceed to play pool at mambo till 12.. slowly walk towards taka, bought some drinks, chat awhile den iris went off le.. me n dear took NR3 to his house nearby and played candles at the park thr.. so romantic.. we sat on the swing from 2plus til 4, talking n singing.. so heart-warming.. ate breakfast den went up to his house.. reached home at 9.30am, bathe n slp but woke up at 1pm.. dunno y but my dear is so pig.. i called him at 6pm and he's still sleeping..
as for today, am resting and be good gurl.. tmr hav school again le.. hee..
p.s. wait til iris upload pic, den i post the pic.. bleahz!
You are the color pink. As a beautiful and sweet
human, you are everybody's favorite person.
Healthy and energetic, you're often seen
spreading the happines. As an unusually
charming and sweet person, you're always ready
to comfort people who are down. You sympathize
with everyone, but not always yourself. Aside
from that, you are light-hearted and cheery.
And you make it your duty to make every cloud
have
What color are you? (Amazingly detailed & accurate--with pics!)
brought to you by
Quizilla
Posted by jess at 9:06:00 PM
Saturday, October 09, 2004
dear no nid go bangkok le!!! so happy.. hee.. later am going to euphoria after all.. buahaha..
ytd went partyworld ktv wif dave, dear and cavin.. we sang in the hall.. there is this 2 girls who are supper guai lan.. noe wad they do?? they keep singing songs i sang.. bloody hell.. at first when they reach, i was singing jolin "dao dai".. den they keep looking at me.. later part, i go choose elva "ai de zhu da ge".. den they oso go picked that song, somemore they insert the song and sang first so it look as if i am copying them but too bad they got not much power.. =p its not a coincidence lo.. coz i picked "ming tian jian". they oso.. once i sing finish, they sing.. aint it all obvious.. hmpf!! sang till ard 1am, den i took cab home alone coz they not yet done wif it and the later part i was dozing off on the chair le.. spent so much.. haha
before the ktv, i went shopping wif iris, elaine n marv.. den iris did something so blur, ask her urself.. lolx.. after that, me n iris went to wheelock zara.. i spot a strip pants thr which is so nice.. it fit me perfertly.. tink i gonna buy but nid to alter length coz its damn damn long.. $49.90 for a pants in zara.. good bargain hor? lolx..
Posted by jess at 1:54:00 PM
Thursday, October 07, 2004
today i totally didn went school.. buahaha.. damn lazy coz sha, iris and elaine went to sheraton hotel for interview regarding their ITP.. well, i got into FULLERTON.. dunno is it good or bad.. at least its near dear's workplace.. den my darlings all came my house together wif fai to do proj and bitch abt singapore idols.. lolx.. fun fun..
ytd, wait for dear finsih his work in his office lor.. den went to my house nearby for dinner.. we ate rice wif hotplate beancurd, sambal kang kong, spare ribs.. yummy.. nice nice.. tink i gonna change my blogskin but abit lazy eh.. somemore exam coming le.. hmmm..
Posted by jess at 11:41:00 PM
Tuesday, October 05, 2004
dear dear cant accompany me to euphoria concert le.. haix.. i plan to go drinking after the concert den stayover at his house but all gone.. he nid to fly to bangkok for work this entire weekend.. *sad* but nvm, i shall be understanding.. this 2days hav been rushing proj and didn got to see dear.. hav u all experience this before? its like when i am stress or lonely, i wil anyhow tink, anyhow imagine and make myself sad.. and when i listen to sad songs, tears juz drop.. omg, am i going crazy? well, forget abt me..
as promised, here are a few pics of my straight hair.. shld i rebond my hair? i nid
COMMENTS..
=p =p
stupid sha say i look slutty.. hmpf!!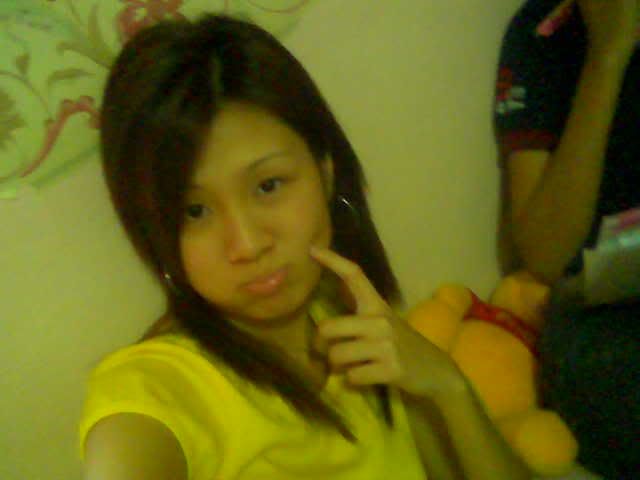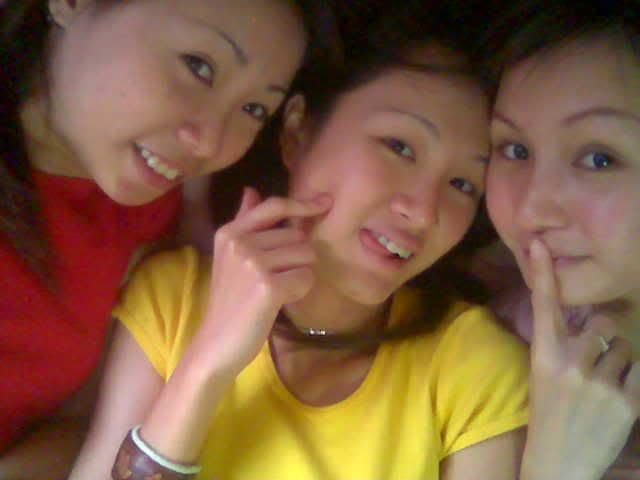 my darlings!! but sha not inside.. lolx..
Posted by jess at 10:35:00 PM
Monday, October 04, 2004
am juz home from a ktv session at chinatown "cha xuan".. that place is like a pub.. dear's friend terrence brought us thr de.. hmm, not worth the money of $18 though their songs are new but its like those "chiong" ktv pub lor.. although the ktv session is not great, but me n dear n had great fun and sweetness together..
fri: after sch and proj, went bugis wif iris and rong to acc rong buy formal clothings.. den bought bread to dear's office find him.. sweet hor? waited for dear finished his work alraedy 9plus le.. so we went coffee n went home.. haix.. i was so sad that day coz of some stuffs but nvm..
sat: went to sha's house ard 2pm.. drag till dunno wad time den start proj.. haha.. *as usual* me darling sha is so nice.. she bought nuggets, seaweed chicken, fries and made jelly for us.. (coz she dun do this usually de, she is so pampered) *thankz sha* we really appreciate it.. played wif the hair straightener while discussing proj.. i hav made up my hair to rebond my hair again.. this is gonna be the 3rd time but wil do it after my exams coz now too busy le.. took alot of pics wif my straight hair.. will post it up as soon as i get hold of them.. den meet my fei korkor for dinner plus ling at bedok85.. had sting ray, chicken wings, carrot cakes and wu xiang.. *yumyum* actually suppose to meet dear at holland V at 10 de but smth crop up so cannot.. sorry orh..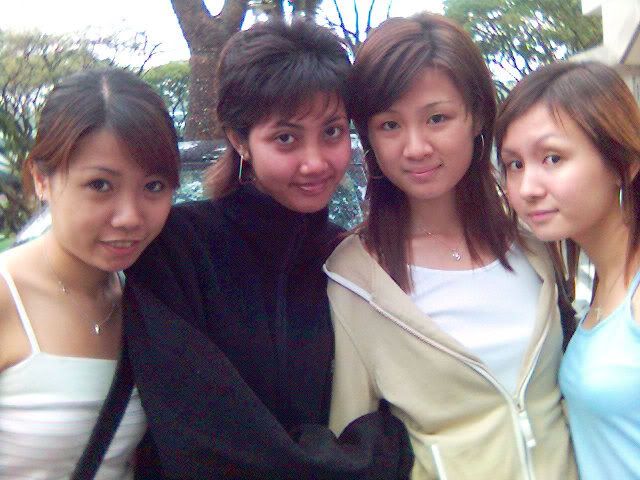 here's a pic of my darlings.. hiak hiak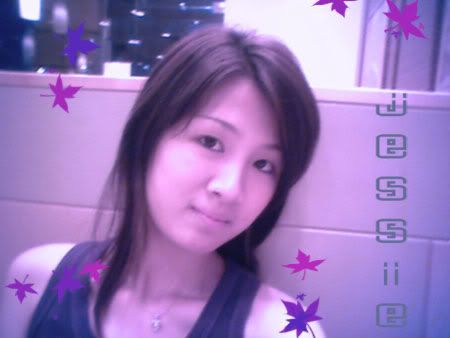 isn't this such a nice pic.. ling edit for me de.. i am such a noob at photoshop.. haha..
Posted by jess at 1:31:00 AM
Friday, October 01, 2004
juz home from dear's house.. thanx dear for cooking so much food n drinks for me.. actually am suppose to cook pasta and soup for dear de but i forgot bring the food.. *opps* after going to subordinate court to find dear, we went carrefour to buy beef, mango, mushroom, sauces, sprouts, thousland island dressings.. den went to "the angie's choice" and bought durian roll.. after eating all the good food that dear cooked, am too full and forgot all abt the durain roll.. *sob* but i cook smth too k? i cooked the "minestrone/minnostrone" (shit, forgot how to spell) soup and the sauces!! buahaha.. am juz home and had bathe..
as promised, this was the pic i promised last wk. taken on jean's bday!!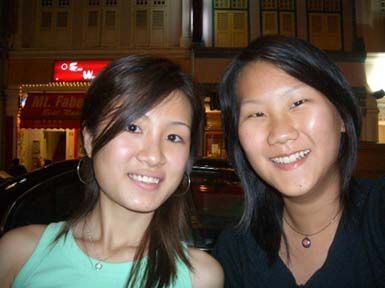 Posted by jess at 1:02:00 AM