Monday, August 30, 2004
i am here blogging again le.. wonder y i am blogging at this time of the day? i am such a bad girl.. didn went school lo.. it was sha's msg which woke me up at 9.35.. my lesson starts at 10 leh.. =p
so i continue sleep til ard 11.30.. thats becoz i only slpet 3hrs ytd so dun scold me pig or wad..
sat: meet up wif ed ard 4plus den went ermerald BK to eat coz he felt like eating smth beefy while i ate cheesestick.. *yummy* den elaine sms me asking abt my whereabouts so we sugggested playing pool at potblack.. make our way thr and played till 9plus.. went over to far east plaza gelare to slack + wait for iris.. poor iris.. den headed over to chinablack abt 10.. ya, i am sorry that i got tipsy and all.. thanx for looking after me.. (iris, jiarong, elaine, haze, nic, xl) i drank waterfall and lambo wif iris den accompany nic drank waterfall again.. plus 5shots.. when i drink the shots, tears were in my eyes coz the salt and lemon triggered my ulcer.. tink i even complained to haze or whoever that edwin nvr sms me.. but the truth is dear did sms me quite alot of times and i didn reply (thats coz i didn noe) and he got so worried.. i am so sorry k? dun stay angry at me orh.. i already promise u le rite? >.<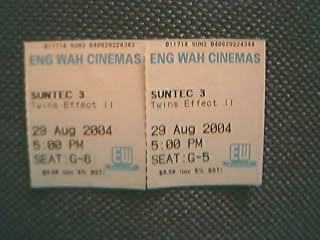 after the movie, walk walk ard carrefour but too many ppl so we took bus to raffles city.. so nice seeing my dear smile.. ard 9, we left for home le..
here's a bonue pic.. lolx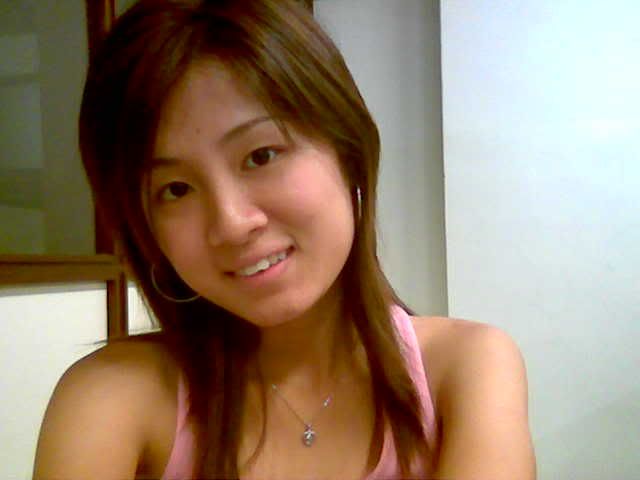 hmm, i really feel like perming my hair soft curves but dun hav the guts..
Posted by jess at 1:18:00 PM
Wednesday, August 25, 2004
haix.. am happy to noe that thr are so many ppl by my side and am oso affected to see that thr is a bit of unhappiness here and thr.. i dunno wad and how to say.. probably wil get another scolding but i noe u guys say me becoz u care rite? but i really wan to go wif my heart and gut feeling.. i noe its dangerous but after wad my dear hav told me, i sort of understand.. i wun let anyone bully me de.. i tink when it comes to love, its hard to be rational huh? i noe wadever i say is of no use now but trust me gurls, edwin is really good and dote on me.. i guess chances are worth giving.. i noe thr wil be some unhappiness when he is out wif *** but who doesn't hav unhappiness.. in my life, i hav nvr been so happy and willing to give before so i wan to carry on and see wad god has plan for me.. i dunno who i hav offended in this entry but i hope ppl wil stand by me and see me through all these.. ok, enuff of craps le.. we shall put a stop to all these coz its only gonna cause more n more hard feelings.. we are all grown up and mature ppl..
well, today didn feel like going last lesson so me, iris and elaine went off at 1pm to k-pool.. den as it was raining cats and dogs so sat down at the cafe "buttercup" for a cup of hot chocolate, potato wedges and shrimp gyoza.. after proceed to bugis coz elaine thr, shun bian acc her wait for jason to sit down for a drink and talk talk nia lor.. meet up wif ed ard 7.15 den went terra cafe for calamaris.. *binge* lolx.. really alot hor? after that we went to supermarket to buy drinks and snack den sat down somewhr to eat AGAIN.. den dear dear send me home..
some pics taken some time ago and today's..
natural hor? we were looking at smth..
the stuffs we cook at dear's house on sat..
taken when eating claypot rice afew days baq..
Posted by jess at 11:59:00 PM
Tuesday, August 24, 2004
today skipped my first lesson as i was sleepy and had an interview at STB at 3.30 but stil cant find wad to wear.. lolx.. well, woke up at 11.30, went bathe and got rdy.. i took train to orchard and walked to far east plaza only to realise that STB is near to far east shopping center not plaza.. so took cab to STB.. the ppl thr like dao dao de.. ask me go 2nd floor sit thr.. lucky i saw xiao wei and isabelle (my lecture mates), went over say hi and waited.. omg, the interview is far far apart from fullerton de.. they asked me qns that i dunno how to answer..
"wad is STB to u?"
"wad do u tink u can contribute if we choose u?"
"wad can u do to promote s'pore?"
"if we were to ask u to write an article, is it okay wif u? and wad topic wil u write about?"
i was snooked sia.. after that, took cab to orchard again wif the gurls den went mac for dinner.. ard 4.45, took train to jurong east find jiarong and iris and ate at edo sushi.. die man.. i am like so pig.. ate dinner wif them again.. *binch* den proceed to woodlands to find andy, the in charge of my new job.. i wil be sort of selling the "diamond water filter".. anyone interested fine me k? starting work this fri.. den becoz raining, he sent us home..
p.s. i miss my dear dear eh.. how? haix..
here's a phrase i find very true and nice.. something to ponder upon..
"you cant make someone love you, all you can do is be someone who can be loved, the rest is up to the person to realise your worth."
Posted by jess at 10:50:00 PM
today went watch "collateral" wif some friends.. since no one wan accompany me to.. *hint*
watch le den went home le.. before watching, me, iris, elaine went play pool again.. lolx.. its all ling's fault..
super bo liao so played wif sha's cap..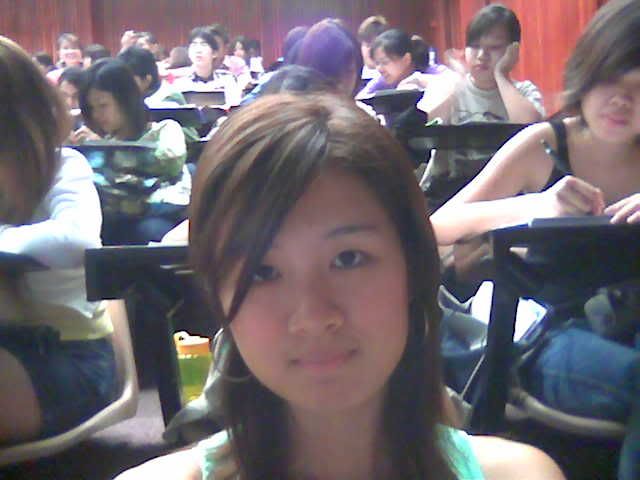 this is my new parting.. ok ma? better or worse? abit colour but cannot really see the dyed hair... lolx..
a pic of me plucking eyebrow.. haha..
anyway, these pics are taken quite long ago.. *opps*
Posted by jess at 12:14:00 AM
Sunday, August 22, 2004
today is vivian's bday.. let me wish her a happy birthday.. may u look so pretty, youthful and young forever.. muackz.. *hee*
wed: actually after sch wanna go home de.. but the tot of going home so early is very sianz so me n iris went bugis to shop shop.. den we had our coffee which oso consist of chicken wings.. buahaha.. went home ard 8..
thrus: went play pool wif ling and fei.. omg.. ling is like hooked on pool.. buahaha.. another person can accompany me play pool le.. den went home for dinner..
fri: went chinatown to look for edwin wif marv and elaine.. actually iris n billy oso supposed to join us but last minute smth crop up.. after eating the suposed famous claypot rice, elaine suggested to go eat tan yuan.. omg, its so sweet.. cant really take it.. in the end, edwin ate most of it..
after that, me n ed bring them to the new pool fusion opposite the tcc cafe for poo session.. billy and iris joined us thr.. opened 2 tables and play til ard 12mn.. took quite afew pics wif ed's cam.. hopefully turns out nice.. *prayz* after pool, elaine and marv went home while me, ed, billy n iris went to Mr Bean's cafe to drink coffee and the usual iris orderd potato wedges.. *hiak hiak* took cab home ard 1am.. mum nag nag nag at me.. =p
sat: went for the interview at Fullerton.. shit, i dunno how to go so took cab thr.. yea, scold me ba.. the interview was okay.. both interviewer were friendly though.. after that went raffles place wif sha n iris to eat BK den i went dear's house.. heehee.. we cooked porridge together eh and the luncheon meat wif ketup.. so nice to cook together.. a nice feeling eh.. watched windstruck but not nice de eh.. hmm.. ard 10, reached bukit timah pool place.. who noes, we waited 40mins for the table and by then i already almost had to go coz i dunwan take cab home again ma.. so played 2 rounds only.. *sob* simple but nice day.. den dear continue playing wif his pool kakis..
sun: dear is going out wif someone i dun really like but its his life so i cant interfere.. my stupid bro keeps irritate me.. argh.. feeling very very annoyed now.. juz had prawn mee for lunch.. thats my life.. my dad is collecting his new car today.. ciaoz..
Posted by jess at 1:05:00 PM
Thursday, August 19, 2004
How Do I Live
by Leann Rimes
How do I get through one night without you
If I had to live without you
What kind of life would that be
Oh I, I need you in my arms
Need you to hold
You're my world, my heart, my soul
if you ever leave
baby you would take away everything good in my life
And tell me now
How do I live without you
I want to know
How do I breathe without you
If you ever go
How do I ever, ever survive
How do I
How do I
Oh, how do I live
Without you, there'd be no sun in my sky
There would be no love in my life
There'd be no world left for me
And I, oh Baby, I don't know what I would do
I'd be lost if I lost you
If you ever leave
Baby, you would take away everything real in my life
And tell me now
How do I live without you
I want to know
How do I breathe without you
If you ever go
How do I ever, ever survive
How do I
How do I
Oh, how do I live
Please tell me baby
How do I go on
If you ever leave
Baby, you would take away everything
Need you with me
Baby, don't you know that you're everything good in my life
Posted by jess at 12:02:00 PM
Wednesday, August 18, 2004
since last week, i hav been skipping dunnno how many lessons.. really alot eh and today i skipped again.. some things happen last nite which i dun feel like saying it yet.. when the time comes, den i wil tell u guys but i sure hope it doesn't happen.. went ktv wif ed, elaine and fei ytd den after that went seletar cerematorial to explore but nth de.. i am so sorry elaine.. i promise u no more of this k? huggies.. though it was such a simple outing ytd, i am contended le.. at least i hav happy memories to keep.. i am going to school now le.. ytd quarrel wif my mum the moment i reached home.. my dad... haix.. arghh.. dunno wad i typing oso.. it might gonna be a long time before i re-enter smth to my blog.. dun miss me..
Posted by jess at 9:46:00 AM
Monday, August 16, 2004
heres a little update.. *hee*
sat: basically juz walk ard, oso cant remember wad happen le.. but me n ed went tre-passing to a showroom.. my heart was thudding.. lolx.. but FUN!! took cab home.. i noe u guys are gonna scold me but its late le ma..
sun: went ah gong's house.. but before going up, went to eat the famous curry rice again.. *hiak* omg, my little baby cousin, stephen, is so cute.. i took out my piggy hp strap for him to play but he came to me and grab my hp instead.. and before i go off to meet edwin, i said byebye to stephen.. den he ran over and grab on to my hand coz he tot i bringing him go "gai gai".. can really melt eh.. went coffee club express to slack all the way til 10 den went home.. cannot go home too late coz 12mn is hungry ghost festival..
today: skipped the first lesson.. during the 2hr lecture, me and elaine were talking abt all the ghostly stuffs.. lolx.. scare ourselves nia.. went home straight after sch at 2plus.. felt abit lonely.. after reading haze's blog, i am filled wif so much thoughts that i dunno how to arrange and put into words.. i oso get very happy when edwin juz sms me and ask hows my day.. juz such a simple gesture and i can smile to myself non-stop le.. for all my past ex, i wil demand alot from them and show tantrums every now and den.. but wif ed, i nvr do..
Posted by jess at 9:01:00 PM
Sunday, August 15, 2004
highly recommended song by jay in his new album.. hooked le on this song.. listening to it non-stop.. song and lyrics all by himself..
藉口
曲:周杰伦 词:周杰伦 编:周杰伦
翻着我们的照片 想念若隐若现去年的冬天 我们笑得很甜看着你哭泣的脸 对着我说再见来不及听见 你已走得很远也许你已经放弃我 也许已经很难回头我知道自己错过 请再给我一个理由说你不爱我 就算是我不懂 能不能原谅我请不要把分手当作你的请求我知道坚持要走是你受伤的藉口请你回头 我会陪你一直走到最后就算没有结果 我也能够随我知道你的痛 是我给的承诺你说给过我纵容 沉默是因为包容如果要走 请你记得我 如果难过 请你忘了我
Posted by jess at 12:00:00 PM
Saturday, August 14, 2004
hee.. i noe life very short muz enjoy myself.. so i bought quite afew things to dote on myself ytd.. after sch, me iris n elaine went orchard together.. i went to have my eyebrow pluck but i scare pain and was afraid i would back-out so i told them to "push" me go.. lolx.. thanx darlings.. went to anna sui and they say muz purchase $30 and above den they help me pluck free.. i dunwan to trouble them to walk further so i juz pluck thr.. anyhow chose an eyebrow powder.. not bad la.. here's the pic..
after that, we proceeded to far east.. saw a handphone strap and its selling at 3 for $5.. so we bought the same strap.. haha.. loving hor?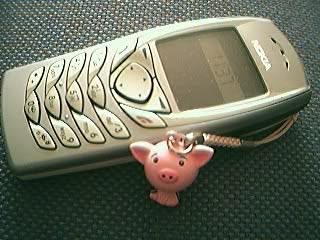 den iris went home eat dinner, take car and meet billy.. while elaine meet her deary.. lolx.. so i waited for edwin.. dear is so so blur.. he was supposed to meet me at 6.45 but suddenly thr was so many customers and he gotta tend to them since his sis was not in the shop.. so busy til forgot abt the time.. i called him so many times but he left his phone on silence and he didn bring his sms hp.. waited til 8 den he called me say he on his way to orchard.. haha.. while waiting for him, that stupid elaine show me a "metal" braclet which i wanted to buy.. but i dun really like that, in the end saw one that i quite like.. juz nice edwin reach le, so i showed him..
after meeting ed, went to ya kun and ate alot of toast thr.. haha.. ate traditional toast, sugar butter toast, bread wif ice-cream and cheese wif butter toast plus a cup of tea and coffee for the both of us la.. so much eh.. anyhow walk ard den went home.. didn do much but ended up reached home oso 12.15am.. *opps*
spent alot ytd.. oh no!! muz stop spending.. my bank is like so low in balance le.. *hiak*
Posted by jess at 11:53:00 AM
Wednesday, August 11, 2004
i tink alot of u wana ask me the same qns as alicia juz asked me.. hmm.. its a very long story and i believe that those who noe are oso sian asking me if we are together anot le.. its quite complicated actually and sometimes, i do ponder on it too.. well, its not that we dunwan to declare that we are together or wad.. its juz that thr are some things behind this issue and hopefully everything wil be solved fast.. i do wan to be wif him but things cant be rushed.. currently, all i can say is that we are close lor and we are sort of "together".. >.< and i am very happy being wif him and i hope its oso the same for him.. he taught me how to love and the feeling of being loved coz i hav nvr feel so much for any of my ex-es.. alothough thr are risk in everything one do, its worth it.. if 1 day we are together, i really wan this rs to last and be stable.. well, i hope i hav answer all doubts.. lolx.. anything else, pls bombard me ba.. haha..
Posted by jess at 5:46:00 PM
Tuesday, August 10, 2004
my daddy juz came home.. he juz bought a new car.. i love this car coz it looks like the BMV X3.. buahaha... here's an attached pic.. now all i hav to do is wait for edwin den go take car license together.. hee.. super happy..
but haven decided on the colour yet.. hmmm...
Posted by jess at 10:53:00 PM
Monday, August 09, 2004
guess i hav neglect my blog le.. while waiting for my early lunch to be ready, i shall update abit in case today after NDP no time to do so..
sat: meet up wif 3 of my sec sch friends and went for ktv.. i didn noe that edison was going to be thr.. so paiseh.. kinna avoiding him.. sang at cuppage.. no new songs.. compared to wed's ktv, its really heaven and earth.. *lolx* meet up wif daniel ard 7 at causeway for dinner and pool.. hmmm, stil the same old him.. juz that he botak now.. *buahahaha* reached home ard 11pm den got an sms from Ron asking if wanna meet up at my house downstairs for supper with edwin.. so we agreed to meet ard 11.30.. ate mushroom cheese prata and teh peng.. =) Ron supper pig.. he ate dinner before coming out yet he ate another mee bundung and cheese egg prate plus teh peng.. finished crapping bout 2am..
sun: actually supposed to do project de.. but sha and elaine damn lazy eh.. >.< they call me at the last minute to tell me they dun feel like doing.. lucky i stay near, if not sure scold them de.. *hee* den waited for ed to get rdy den meet at woodlands.. played abit bit of pool den went for dinner at sakae sushi.. *yummy* den took a slow and very cold 960 down to bugis coz adran, mark and jerr wanna meet up for pool thr.. upon reaching bugis junction, being a glutton, me n ed went to muji to hunt for snacks den went supermarket and bought more snacks.. lastly is four leaves.. die die die.. everyone reached bout 10.30.. den they started playing.. i dun feel like playing so i slacked thr.. lucky adran did bring shumin along.. of course, edwin oso got to rush between playing pool and accompany me.. ard 11.30, wanted to take a bus home coz dunwan spend money taking cab again ma.. but who noes the bus is damn full and its the last few buses available le.. no choice, i walked baq to the pool place again.. continue looking at them play, left wif ed at 1.40am.. took cab home.. i am sort of broke.. no more cabby for jessie le..
wow.. such a long entry.. as u ppl saw on my tagboard, i got lots of pics wif iris so stay tune.. *hiak*
Posted by jess at 11:00:00 AM
Sunday, August 08, 2004
this is the bag i bought.. hee..
actually wanna update my blog de.. but nid to rush to eat lunch and meet ling they all for project.. so update later ba..
Posted by jess at 11:52:00 AM
Saturday, August 07, 2004
Fri: went sch for my 11am lessons today.. nth much happen anyway coz as usual school is boring la.. darl elaine accompany me to orchard to buy my "little matchstick girl" bag and collect my JAY's CD.. so happy!! den took a train to chinatown to meet edwin.. ling: i didn noe marv wil reach so late if not i sure wil accompany u de.. sorry gurl..
went to the chinatown hawker for dinner.. actually wanna eat the famous claypot rice de but ed intro me the jap food thr.. so i ate the unagi set.. its so cheap.. $3.20 nia and the portion is quite big and nice eh.. stil got soup somemore.. after that took a bus to bukit timah for pool and meet his friend mark.. iris: its nt that i dunwan go chinablack.. my mum dun let.. hope u enjoy ur day k?
ard 11.30, i took cab home le.. reach home abt 12mn sharp.. hahaz.. that blur edwin left his hp in my back.. luckily is the starhub phone not the singtel phone.. haha.. but too bad the phone no batt le.. cant help him divert or wad.. hmm, today not meeting edwin coz he meeting someone else.. looks like gotta plan my day since iris and the rest hav their own activities.. might be meeting up wif daniel.. see how things go ba.. here are some pics.. my bag is too big, i dunno how to take a pic of it.. mayb tmr ba.. >.<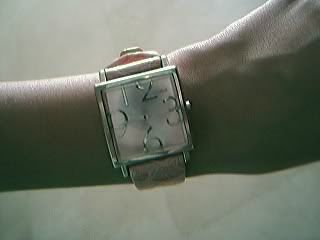 my new watch.. so cheap nia.. buahaha..
took this pic before goin sch ytd.. so bored ma.. but not nice la..
jay's cd!!
Posted by jess at 11:13:00 AM
Thursday, August 05, 2004
the ktv was fantastic ytd.. though thr were some tears but i tink my crapiness plus edwin's craziness plus elaine's siao siao ness were enuff to bring up the mood to full swing after szu, javan and ereen left.. at first we went off at 8 but the ktv ppl told us that we can sing somemore as they dunnid the room.. 3 of us immediately went baq in and start to look for english songs.. sang alot of old english songs.. nice and cheap.. $15 for like 6hrs plus.. really wanna thank szu, javan and ereen for making a trip down to accompany us.. ate yushinoya for dinner.. tried the "ebi meal" quite nice eh..
today went school as usual.. today me, sha, elaine n iris all wear shades of pink and red.. so accurate eh.. we didn even agree to wear together lor.. lolx.. after school went edwin's house.. he helped me dye my hair.. thanx dear.. it was not too obvious la but can see the colour.. abit copper brown ba.. *hee* somemore style my hair for me and took a pic.. pray it turns out nice.. went to eat dinner after that den go home.. i got iris to help me get the JAY CHOU'S cd from hmv today.. tmr can listen to his cd le.. yay!! thanx iris darling..
Posted by jess at 11:03:00 PM
Tuesday, August 03, 2004
these are pics of us wearing formal.. hiak hiak.. but haix..
irritating!! rushed the project like fark and meet in sch at 8am.. printed and photostat everything for the presentation.. at 9am sharp, got a sms saying that the tutor has gone on maternity leave.. arghh!! i noe not her fault, is we suay!! i wear til so formal today.. worse is i didn bring any clothes to change.. my heels made my feet ache so much.. actually didn wanna go for the 3pm tutorial de but elaine influence both me n iris to attend.. basically my life is quite boring this few days.. tmr might be going KTV.. with szu, javan and alvin (mayb), elaine, edwin, iris n billy (hopefully)..
Posted by jess at 8:50:00 PM
Monday, August 02, 2004
wahlau.. i type such a long post and it came out wif nothing.. arghh.. its really a long long post leh.. how sweet, tough my life hav being on sunday work.. no mood to type le.. give a summarise can le.. the work was very tough, busy but fun.. knew a few friends and the insurance guy was so nice to me and 2 other girls.. bought us "milk ice" and "cheese susage".. dear edwin had to go ikea alone to buy his stuffs but he was happy la.. coz can shop ma.. i was so so happy to see edwin come down to marina find me.. *grinz* and he bought me a sunflower which symbolises happiness.. *hee* actually i suppose to go home de but wanted to see him longer so proceed to bukit timah pool place to find his friends.. left thr ard 1.40 and reached home abt 2.. so tired and i skipped my first lecture today.. tmr's presentation we haven even assign who do which part.. die le la.. haix, my actually post was 3times more den these.. zzz...
Posted by jess at 9:39:00 PM