Saturday, July 31, 2004
was home for the entire friday!! wad a friday rite? seen really many problems lately.. make me feel that r/s are really very weak.. to give up or not to give up? haix..
today didn went for the NDP coz was lazy and coz edwin is free and coz iris didn go.. =) *excuses*
chatted wif elaine and iris awhile ard noon den got edwin sms.. so i went eat lunch, bathe and went meet him.. by the time already 3plus le.. went centrepoint to walk ard and slack.. ard 6, ed meet his sec sch friends eat dinner so i waited for him at orchard til 9.. den dave, eugene and him accompany me go dinner den i went home coz my stomach wasn't feeling good.. thanx to dave for the ride home.. while they went bukit timah to play pool.. tmr am gonna work at 2pm.. dunno whr is the exact place and work to do.. haha..
lastly, i hope everyone wil take life seriously and not tink abt death so easily..
come wad may but life is stil important..
Posted by jess at 11:55:00 PM
Friday, July 30, 2004
LOVING ONE. You need safety in your relationship.
You want to be sure in his/her arms, knowing
that he will protect you and you can be totally
devoted to your other. At this point you are
very vulnerable. You open yourself and dont
even think that he/she could cheat you. You
totally trust your partner in every single way.
SO if you find out that she/he lied to you or
played a game this trust is broken. You may try
to forgive your other but this will be very
difficult.He/She has to be friendly and
trustworthy.PLEASE VOTE, I want to know what you think about my
quiz, I worked hard on it.You can always message me or tell me how I can
improve that quiz. Ill sure write back.
~THE big LOVE TEST!! What do you need? With PICS! For girls and boys!~
Posted by jess at 3:57:00 PM
Thursday, July 29, 2004
haix.. today noe the results for my ITP le.. i was so so so angry when i noe the results.. angry til i totally no mood to do project.. even iris say my face damn black at that moment.. iris, elaine and me all got stupid choices.. i chose 3travel agencies in total but i got none of them.. instead i got fullerton hotel and STB.. argh!! we went to look for the tutor in charge (chih wee) but he not thr so we went to find the head of tourism dept.. he say he will help us ask chih wee.. when i am down or unhappy, i tend to eat alot.. i ate seafood soup and a bowl of rice for lunch.. an hour later, i ate mashed potato.. *hiak* enuff of crap, it really sux..
ytd went to cut hair, well, it sux too!! but luckily they maintained my length if not i strangle them.. they messed up my hair though.. never go to Toni&Guys academy school.. scary experience.. meet up wif edwin at town den went orchard to shop and eat dinner.. dunno wad is happening to orchard nowadays.. it is so so empty.. i tink the sales personnel oso more den the shoppers.. anyway, i bought a hairdye from feria.. if i am not wrong, i bought "flash copper brown".. hopefully next week can go edwin's house to dye my hair.. wil take pics for u guys to see.. ciaoz!!
Posted by jess at 4:07:00 PM
Tuesday, July 27, 2004
here's some pics for my sat night out!!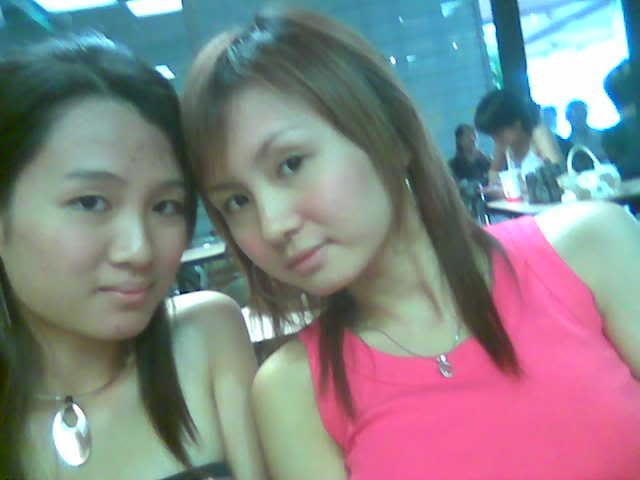 taken in mac at marina sqaure while waiting.. elaine, james, sha n faisal went off le..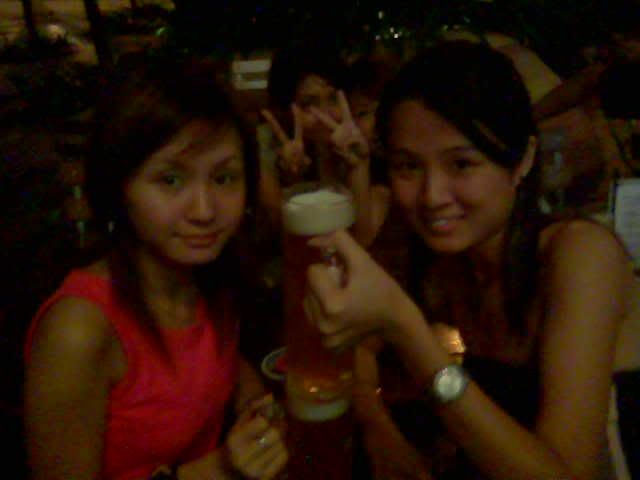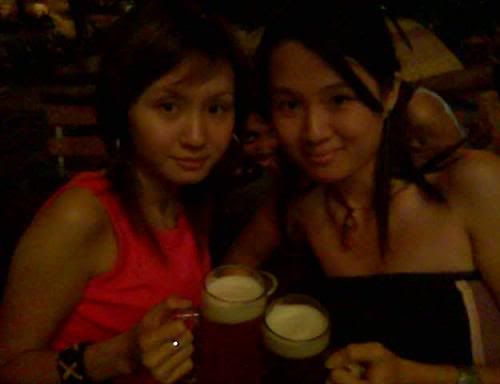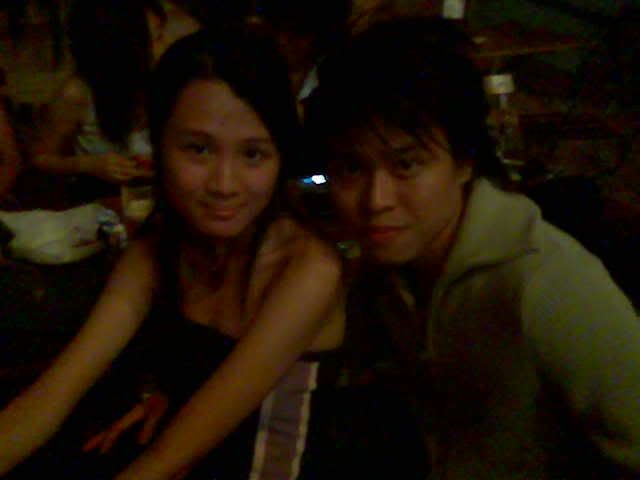 i love all this pics.. take a close look and u can see some ppl poping behind.. its the irritating sha and elaine.. haha..
well, today went sch as usual.. did my tutorial wor.. *proud*
had a nice day in sch all thanx to my darlings ard (sha, elaine n iris).. if not for them, my day would be so so long..
p.s. elaine is ultra irritating.. lolz..
Posted by jess at 8:54:00 PM
Sunday, July 25, 2004
this few days, i have seen and look thru some rs.. one my my sec sch friend oso experiencing some probs.. it makes me ponder on alot of stuffs.. is being committed really so difficult? is finding ways to make urself committed so tedious? i dunno.. u answer that yrself ba.. anyway, heres wad happen to me these few days..
fri: went home after sch.. nth to update.. another boring day only..
sat: meet up wif iris, faisal, sha n elaine to marina sqaure MAC for a briefing for our job at the firework festival event at marina bay.. if u guys even go thr, gimme a call. i wil be working thr on sundays.. due to some mis-communications, it took us a detour to get to marina.. accompany iris for lunch at BK before proceeding to MAC.. the ppl thr are draggy man.. 4.15 stil haven start the briefing and edwin has already reached city hall quite awhile le.. (i can meet ed ytd before his's sis wedding "ta li" is next sat, blur) sha, faisal, elaine, james went off very early le.. den we did our stuffs lor.. ard 7.40, meet up wif them again at pacific coffee.. crap alot and bullshit alot thr.. *fun* decided to go paulaner (i dunno how to spell).. we all drank beer, except sha and faisal.. their german beer is so smooth and nice (note: i dun drink beer).. actually ed gotta go at 10.30 de, but he is so nice to call all his pool khakis(adran, jerr, mark) to join us at paulaner instead so that he can accompany me.. *thanx* again, crap so much thr.. even played stupid games.. me n iris play five, ten.. then the punishment is to take out 1 thing on us if we lost once.. lolx.. after that we prceeded to arab street at selegi for our seeshay(again dunno how to spell) session. this is the 2nd time i smoke this.. its tobacco wif flavour and i only like the apple taste(of which i only tried apple, cheery and grape before).. *hahaz* i oso tried the pizza, lasagne and spagetti thr.. the spagetti sux, lasagne was okay and pizza i only take a very small bite.. mum keep calling but i nvr pick up.. finally at 1.30, decided to leave le.. so me n ed took a cab home.. it was such a fun day!! we took quite alot of pics but all in iris's phone.. shall wait for her upload den post some in here.. today wil be slacking at home le.. >.<
p.s. i got tons of project.. gonna to die le la.. and my ITP nid to submit by tonight.. totally at a loss which company to choose.. haix..
Posted by jess at 12:53:00 PM
Thursday, July 22, 2004
Your Icecream Flavour is...

Choc-Chip Cookie Dough!
You are fancy shmancy! You have all the bells and whistles and you attract the most gluttonous of ice-cream shop patrons. You are fattening and intensely rich. That being said, you are very tasty and have a huge fanbase! good for you!
Whatis your Icecream Flavour?
Find out at
Go Quiz
Posted by jess at 10:35:00 PM
Wednesday, July 21, 2004
hav been neglecting my darling blof since sunday.. *hee* being busy wif alot of projects, going out wif edwin and other stuffs... anyway oso not much to update coz all i did was go school.. well, today meet up wif edwin after school and project at ard 3.30 at jurong east coz he went for a job interview.. recently edwin is so busy that he is so blur.. i told him meet at JE popular but he took bus til clementi and was looking for popular.. lolx.. acc him to take his basic theory at 6.30.. while waiting for him at the cafeteria, thr was 2 weird guys keep staring at me.. duhz, so uncomfortable.. den i suggested going chong pang to eat, den ed suggested going chong pang nasi lemak.. very famous de orh.. but we got lost.. hahaz.. reached thr its like 9? had so much dishes to "pei" the rice coz i was spoilt for choices le.. ate til so so full den took 969 to woodlands.. walk walk awhile at causeway pt den we walk home.. juz bathe and home not long ago.. dun tink i hav the chance to meet up wif ed this few days le.. shld be next wk den can meet up le orh.. now i oso muz rush a few projects which is sucky coz now only juz started sch not long.. to end off, afew pics from saturday NDP rehersal..
i look so ugly when i tie my hair.. *pui pui*
these are 2 new friends i knew thru NDP.. left is Agnes, right is Adeline.. nice and fun ppl.. >.<
guess which is mine leh.. but guess correct no price!! hee
Posted by jess at 11:48:00 PM
Sunday, July 18, 2004
went for the NDP as usual, being an usher lor.. wah, quite fun but very very thirsty leh.. keep giving directions.. lolx.. had pizza hut for dinner (a slice of pizza, 3 drumlets and 2 slices of garlic bread).. at least better den KFC ya? the whole thing ended bout 9.. den i accompany iris go home take car den proceed to marina south. this is whr the mis-understanding was.. edwin say to meet the rest(mark, adran, jerr) at marina south and i tot is go thr for steamboat de but end up they go thr becoz of playing overnight pool.. *opps* iris and me are blur blur de, dunno the directions to MS so we picked edwin up outside chijmes den he direct us to MS.. ate western food thr.. iris's egg fried rice was nice while my omelette oso quite nice though its juz eggs.. found out that vivian hav a similar taste as me.. we both love to eat eggs.. *haha* continue played pool while iris went off at 2am liddat to fetch her dear billy from zouk.. finished playing at 5am den went home.. ate a prata kosong wif sugar and teh-O before going home.. *hiak hiak* zzz at 7am and woke up at 11am.. had a very bad dream.. it was so real that i nearly cried.. silly me rite? hahaz.. today stayed at home whole day.. becoz fri was my daddy bday, we went to celebrate belated dinner for him juz now.. ate zhu cao til so full.. had steamed fish, prawn wif cereal, kang kong, fried egg and tom yum soup.. *yummy* now i recover le, muz make up for my 3days lost of appetite.. =p
Posted by jess at 7:54:00 PM
Saturday, July 17, 2004
i am better le.. in fact, am almost well.. thanx everone for their concern.. juz that stil no appettite only.. hav a warning for everyone.. pls do not watch "the sister", which is a thail horror movie.. it has no impact, not scary at all, crappy plot.. basically sux.. the show start at 6.45 but me n edwin made it thr by cab ard 7.30.. went in and begin watching crap.. at the end stil got some scences but we juz walked off.. yucky!! after that went meridian to eat dinner and feel like slacking in a cafe.. but i really dunno wads happening to orchard!! its TGIF but everywhr closes so early.. went starbucks, too many ppl.. went delifrance, closing soon.. went coffee club, packed like hell.. end up we bought a $1 ice-cream before proceeding home.. reached home ard 12..
later hav to reach stadium for the NDP rehersal by 1pm.. its gonna end at 8.30-9 latest.. den gonna meet edwin and friends for pool and supper.. hopefully they are going to the stretch of food stalls at orchard to try their food.. hope ii hav appettite by den..
update u peeps again..
this is the waffle we ate at the "buttercup" cafe at cineleisure.. nice hor? >.<
Posted by jess at 9:55:00 AM
Friday, July 16, 2004
Title:
She Believes In Me

by Ronan Keating

While she lays sleeping
I stay out late at night and play my songs
And sometimes all the nights can be so long
And it good when I finally make it home
All alone

While she lays dreamin?
I touch her face across the silver light
I see her dreams that drift up to the sky
And she wakes up to my kiss, and I say it alright
And I hold her tight

*Chorus*
And she believes in me
l never know just what she sees in me
I told her someday, if she was my girl
I could change the world
With my songs, I was wrong
But she has faith in me
And so I go on tryin? faithfully
Forever in my heart she will remain
And l hope and pray
I will find a way, find a way

While she lays waiting
I ask myself why do I hurt her so
What calls me on along this lonely road
Why dont I turn around and head back home
Where I belong

While she lays cryin?
Cause she knows how my heart is ripped in two
Torn between the things that I should do
She deserves it all, and give it if I could
God her love is true

Cause she believes in me
I never know just what she sees in me
I told her someday, if she was my girl
I could change the world
With my songs, but I was wrong
But she has faith in me
And so I go on tryin? faithfully
Forever in my heart she will remain
And l hope and pray
I will find a way, find a way

While she waits
While she waits
For me
Posted by jess at 12:16:00 PM
Thursday, July 15, 2004
hmm.. i am sick.. really no strength to type.. tio food poisoning.. argh.. the feeling is so unexplainable.. keep puking or going to the toilet.. cant even eat or drink anything.. worse is my poor dear oso puke twice last nite.. he was perfectly fine til he saw me den he started feeling nuseas too.. thanx to iris for accompany me and taking care of me til edwin came.. thanx to dear for making sure i reached home safely.. and sorry dear coz this few days actually wanna spend solid time wif u de, end up u hav to sent me home coz of something..

What attracts people to you?
brought to you by
Quizilla
Posted by jess at 8:32:00 PM
Monday, July 12, 2004
so fast 19 le.. haix.. time really flies eh.. this yr is the last yr of my 10s.. next yr 20 le.. omg!! muz first thank my bro for buying me a blue converse jacket, got time i take den attached.. iris for buying me a tube everyone's else pressie.. muackz to my darlings elaine, sha, iris, shirley, jinting and everyone who remembers my bday and is thr for me when i am down.. lastly thank edwin for accompany me thru today.. though he had to go off at 8, its okie.. family more impt.. >.<
today went sch as usual.. after sch did abit of proj den edwin came dover fetch me at 2.40.. i didn noe he was waiting for me at the bus-stop since 2. *hee* den went to monster to play some pool.. dunno wads wrong wif some ppl.. they juz stood thr and look at us play pool or rather at edwin (coz he is good).. den walk walk ard, feel abit hungry den ate old chang kee.. continue to stroll along taka.. actually wanna watch "windstruck" de but the timimg not rite.. drag til 6plus den went Marche.. ate rosti wif cheese susage, caramel banana wif crepe, oyster and a glass of white wine.. not alot coz stil full from the old chang kee.. didn took pics coz the lightings not bright enuff.. had fun orh!! thanx to edwin's dinner treat.. hiak hiak.. missing you now..
i gettin more clumsy now.. can see the red bruise on my wrist?
my new image.. lolx.. wif hair pin.. cute?
too bored in tutorial.. buahaha..
a candid shot by iris..
us.. 3 wonderful ladies.. *opps*
the jacket i wearing is from my bro.. can see abit bit ma?
p.s. sorry to make u all suffer by looking at all my pics.. hee.. but since u r here, no choice rite? hahaz.. all pics in curtesy of elaine and iris de..
Posted by jess at 9:50:00 PM
Sunday, July 11, 2004
i am home.. finally.. but too bad its too late if not i wil go down meet edwin.. today is a farking screwed up day for me.. dun wish to elaborate. i planned today til so nice but end up everything cocked up.. and i hav to put ed's aeroplane.. i noe he is unhappy.. dun be k? tmr i make up to u 10times orh.. u can punish me whatever way u wan k? =)
sat: went for the NDP thingy wif iris.. that sha very lazy de!! she say sick orh.. lolx.. but me n iris say that we working at 6pm, therefore we were allowed to leave at 5pm.. its tiring eh.. got to usher ppl to whr they are seating.. thirtsy yet no water.. the uniform is ugly esp the pants.. so waist length.. yuckz.. at least the white shirt wif flowers look okay.. wait til i take pics of it den post. after NDP i went orchard for shopping alone coz edwin not free and no ppl accompany me..
bought the green top at U2 and the orange toga at mango.. was hestitating between orange and green and black but bought orange coz edwin likes orange.. sweet ba? >.<
meet my 2friends for dinner at Lido.. the 2nd or 3rd floor got one JAP restaraunt nice eh.. i tot its gonna be very ex but 2ppl ate $42 nia.. its a big serving plus soup, tea and dessert.. the mango pudding is fantastic but i didn took pic of the pudding.. after that my friends surprise me wif a cake from Breadtalk.. so full and they forced me to eat the cake.. omg!! fattening cake sia.. thanx for making my sat worth it..
this is my dinner and cake.. *yummy*
Posted by jess at 9:20:00 PM
hi.. jessie is baq wif bloggings..
Fri: went sch as usual and forgot wad happen in sch le.. nth gd to remember abt sch anyway.. shirley and my yr 1 poly mates ask if i wanna go Bangkok wif them during Sept hols.. *stil considering* meet up wif my sec sch girl friends at orchard to go Jack's place to eat.. the food thr are awful.. i ate the catfish set and my friend ate the crayfish and chicken sets and they all taste awful.. we hav a tradition of the birthday girl treating everyone.. *broke* i didn took any pics coz i forgot.. *hee* one of the pressie that they gave me was a big big cute chair and i dunno how to carry home coz my bag is heavy and my feets hav blister from wearing new shoes.. luckily edwin was so sweet, he went down to orchard to help me carry the stuffs.. *muackz*
this is the big big chair..
this are the gifts from them too.. nice nice..
this is the close-up of the braclet.. i like..
p.s. i in rush go grandma's house.. update at nite.. tune in orh.. more interesting stuffs to be updated..
Posted by jess at 12:09:00 PM
Thursday, July 08, 2004
had sch from 9-10.30 ytd.. omg!! got up so early in the morning to go sch, end up only went for a 1hr 30mins lecture.. the lazy chih wee cancelled his tutorial.. after that we slack ard in sch til 12plus den made our way to tiong bahru coz i wanted to bring elaine n iris wif edwin to the famous curry rice stall.. while waiting for edwin, we shared a whipped potato, cheese fries and ice-milo.. edwin reached ard 1.30 and we proceeded to the stall which is a 5mins walk away.. but who noes? it closes on wed!!! i am so sorry.. its my mistake.. anyway, we ate chicken rice instead.. me n iris shared a set of chicken rice.. iris told the aunty she wan extra gravy, "zi" in chinese but the aunty tot we wan extra chicken, "ji" in chinese.. hahaz.. so big plate of chicken!! after eating, acc elaine wait for james den me and edwin went to orchard.. nth to do so we both decided to go ktv coz we hav the free 4hrs package.. reached partyworld already 4.30 le.. happily sing sing sing.. suddenly at 6.50, the "last song" words came out.. the ppl nvr tell us that we hav to go according to the 3-7pm package.. ended up we only sing for 2hrs plus!! nvm.. went ard to shop for my shoe and ed's shirt for his sis's wedding in Sept.. i bought my shoe while edwin aim a shirt at ZARA.. *hee* ate dinner at my house downstairs den went home le.. gotta change and get rdy for sch le.. ciaoz..
this is the necklance i bought that day at Queensway..
bought this shoe today.. very girlish hor? lolx..
Posted by jess at 11:01:00 AM
Tuesday, July 06, 2004
these are some pics that we took at the stadium.. more of sha and iris's individual pics can be found at their blog..
a pic of the ice-cream which me n iris ate.. saw my fingers and legs?
mon: went to sch at 10am.. kidda not used to waking up early ma.. well, it was alrite la coz very slack and 1st day of sch ma.. found out a few bad news.. the tutor who made me nearly failed my e-commerce is baq to teach me another module.. die!! and i hav a boring lecture for "convention mgmt" an interesting module.. zzz.. sch ended for us at 2pm coz our elective is on thrus but coz 1st day so early dismiss.. 1pm finish sch le.. proceed to cine wif elaine and iris.. wanted to catch the korean show "windstruck" but cine dun hav!! and the crowd was like super super alot and young.. i feel so old thr.. decided to leave for another place but who noes a sudden downpour came.. after thinking for so long, we went to a cafe at cine called "buttercup".. slack thr den went m)phosis for some sight-seeing.. arghh!! i tried on a black skirt wif band de.. i love that skirt but its very transulcent.. how how??
these are wad we drank.. iris's vanilla latte, elaine's camomile tea and my earl grey tea.. actually wanted to order potato wedges de but they dun hav.. hahaz..
Posted by jess at 8:43:00 PM
Sunday, July 04, 2004
sat: went ktv wif elaine, xing long, darren and dear from 2-7.. den after that went for dinner.. but i hav totally no appetite and elaine happen to hav a bit of gastric so we both didn eat.. after that due to some matter that arise, i went home.. before going home, i went to a hill top at woodlands to smooth myself.. that place is great except that its a bit dark..
sun: reached the stadium at 2pm for the NDP usher briefing.. it finished at 3.30pm and i meet edwin 5.30 at ikea.. i was damn early and walked ard queensway.. i ended up buying a necklance.. very nice de.. those copper colour type.. i tink wil look nice wif tubes.. went ikea becoz edwin wanna buy those "whiteboard" for writing down memos de, plus a few cute magnets.. after that went to the cafe for the famous meatball, steak and 2 chicken wings.. argh!! as iris cursed, it really did work.. she "cursed" that i wil forget to take pics.. and i really did.. hmpf!! tmr sch start le.. so sianz.. daily routine again.. sux big time eh!!
Posted by jess at 10:19:00 PM
Saturday, July 03, 2004
sorry for not updating bloggie regulary but past few days i was home so...
it was an interesting day for me ytd.. Me, edwin, Jerr, Adran and Shumin went JB.. meeting pt is at causeway pt taxi stand at 9.30.. due to some mis-communication, we managed to proceed at ard 10.15.. the journey starts.. drove up to Kukut (2hrs drive from custom) to eat the seafood thr.. we oredered cereal prawn, 7-up crab, kang kong, fish, fried kuay teow.. quite alot for 5ppl but we finished it.. it only cost a total of RM140.. shit!! i noe i too pig.. only tot of eating, forgot to take pics of the food but we took afew pics.. too bad its using cam so gotta wait for development.. >< finished the food den rush to buy the movie tix for Spiderman 2.. bought the 4pm show.. the tix is only like RM10.. omg.. damn cheap.. by the time the show finished, is ard 6plus.. walk walk ard city square den proceed baq S'pore.. and the jam begins.. trapped in the car for bout 1hr 30mins.. leg cramp eh.. went causeway pt for dinner den went our seperate ways.. while me and edwin walk home, we r like 2 drunkards.. lolx.. keep on laughing sia.. he choked on his sweet and keep on laughing at himself.. *bth* set down somewhr near my house and tok tok.. time pass so fast.. in a blink, its 11.30 le.. muz quickly call him go home if not no bus le.. at nite, when we tok on phone, smth happen.. nth big but hmm i dunwan to elaborate.. well, dear, if u are readaing my blog, i will always be thr for u to support u.. if u hav the will to do wad u wan, it will happens.. end up we tok till 5am den decide to slp le if nt tmr will be zombies.. later going ktv!! ciaoz..
Posted by jess at 11:23:00 AM