Sunday, May 22, 2005
i rebonded my hair le but the sad thing is i am starting work on 24th may at marriott hotel.. hav to bun up my hair.. by right, i cannot tie my hair for 2wks but bo bian.. i wanted to upload all my pics but dunno y when i wanna transfer, my pics in the hp is blank.. arghh!!!
watched star wars episode 3 on thurs.. i am not a star wars fan but the effect is good except tat it got quite draggy in the middle of the show..
ytd went out and played pool.. omg.. its the first time i played for 3hrs plus leh.. only 2 people, 3hrs plus.. spend like $36 on pool along.. scary hor? before tat, had dinner at sakura wif the usual.. sambal kang kong, hotplate beancurd, parsley ginger beef.. (haix, no PICS)
den after pool, we went to chimjes to chill.. who knows i saw vivian wif her friends and alvin thr.. LOL.. i was wondering if that is her anot.. we went to a spanish pub but i forgot the name le.. we had a plate of soft shell crab and a plate of roasted pig.. kaoz!! the roasted pig is heaven.. arghh, no pics again.. =(
had a total of 3 glasses of port wine and 1 glass of their specialities, "shangra".. the port was wonderful.. sweet and very strong.. the shangra is like fruit punch, cant really taste the alcohol in it.. we sat there and chat chat till 2 plus..
really enjoyed myself alot.. since am starting work soon so must make full use of these few days yea.. i am really happy ytd.. shant elaborate more.. when u really love a person, all u want is for that person to be happy.. u do not have to be his, just by knowing that he is happy, it's enough.. i have learnt not to put too much hope.. the more hopeful you are, the more dissapointment u get.. but i believe u, i believe wadever u told me.. =)
Posted by jess at 3:36:00 PM
Sunday, May 15, 2005
i shld be in KL or genting now de!!! but due to the rushness, lack of hotel rooms, my uncles decided to postpone to 29th.. skali i got part time work tat day den i cant go le.. SOB.. we hav already book 2nites in the MINES resort and spa, 1 nite at Genting.. my dad say the view at MINES very very nice..
ytd watched kingdom of heaven.. guess it's a nice show but coz of the companion, it is stil worth watching this show.. smart tactics and cute guy.. LOL..
tat day saw this wedding car so cute.. use piglet and tigger.. haha.. my cousins call me to take picture and send email to them.. imagine a 10year old cousin saying this.. when i was 10, i dont even know wads email sia..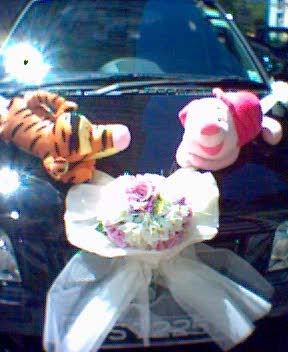 Thurs while companying jinting shop for clubbing top, i cant resist the temptations and thus bought afew things..
supposed to be purple de la..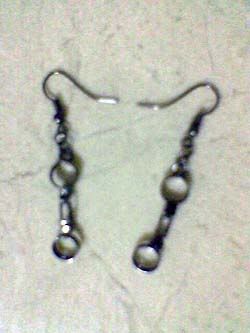 supposed to be black de.. LOL.. tink my cam sux..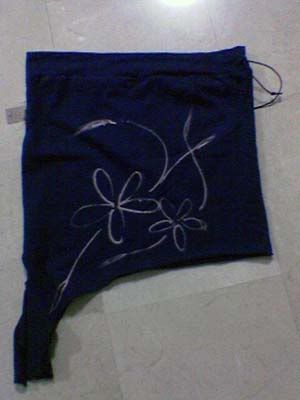 and a tube!! heh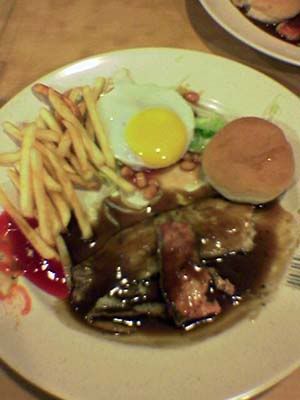 ate this at the foodcourt opposite Ikea.. not bad..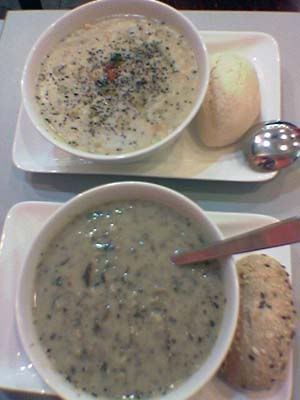 this is supper nice!! i forgot the shop name but is at raffles city, somewhr near subway.. the shop name is "...soup" i had mushroom while he had clam chowder.. damn nice.. but for the mushroom soup, u muz make sure u love mushroom.. their sandwiches are so superb too!! confirm wil go baq to try the rest of the soup..
Posted by jess at 2:02:00 PM
Monday, May 09, 2005
read this from Dave's blog..
really makes alot of sense.. hope u read it..
realize that the girl holding onto u..
is PERFECT in their own special way.

The way she laughs..
The way she sleeps..
The way she loves you..
The way she tries to please you...

Always remember that.

She can always walk away and up,
getting someone else who can love her more.

For all you know,
there is someone out there wooing her already,
but she is rejecting,
a maybe perfect love for you.

There might also be someone out there..
who is willing to love her more than you are loving
her now,
fufill her every need and love her as much as she
loves you.

Understand that.

Girls have a huge guilty concience.
...imagine this, guys.
When you are holding her today...
and then you cheat on her by hugging and kissing
another gal.
and then you run back to her...
and u do the same....
but you see love in her eyes...
What do you think?
Do you feel the hurt?
Can you feel guilty?

She loves you not because you are good looking,
have money,
buy her things,
make her parents happy,
or that you have a car or bike.

It's because..
she loves you.... n FOR YOU.
she loves the way you laugh,
the way you sleep,
the way you hug and hold her,
make every little bad thing go away.
That's why she loves you.
Always remember that.

There might be another guy...
who wants to have what you have.
So dun let relationships run wrong.
You might never have another chance with that
girl.
Dun regret when you lost a gem..
Posted by jess at 4:53:00 PM
Friday, May 06, 2005
this few days either go for driving, go out or stay home.. so bored..
i screwed up the marriott interview.. shall not elaborate further.. coz of 1 mistake den zzz le.. but nvm, shall continue look for others. well, watched afew movies currently.. lazy to recap the titles but i know "the creeps" is a definelty NONO.. yuckz and gross..
i hate starwars episode 3 but i tink i lost a bet and thus muz company him to watch on the ermm 19th..
today by rite i shld pass my stage 1 driving de.. ever since ytd, i learn how to drive outside and thus muz speed up.. den today when baq to the curcuit i cant seem to control the speed.. hee hee.. and worse stil, it was raining very heavily.. tink i sux..
been eating quite alot of good food.. wif family, friends, him, her bla bla.. tink i grow fatter abit.. well, heres an update of how i look while waiting for someone to finish work.. keke..
my aunt and cousin, stephen.. guess how old my aunt is.. she doesnt look her age at all!! and she has got 2 children already orh..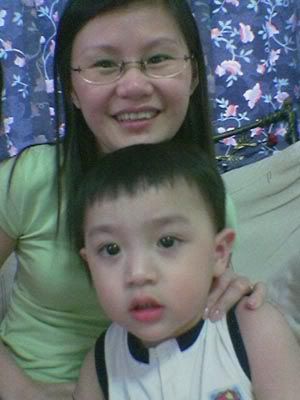 a gift from him.. i love it alot.. really!! coz i was looking for a necklace wif ring pendant and he was so sweet to note it and bought me this.. i will treasure it de.. ..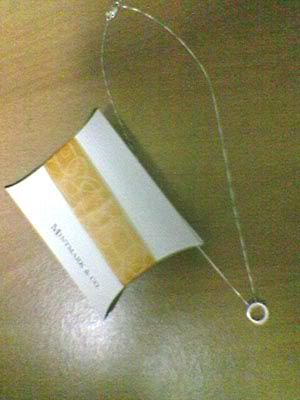 Posted by jess at 4:18:00 PM
Sunday, May 01, 2005
found out smth.. once u stop updating ur blog for a few days, u get lazier.. buahaha.. but well, juz a short update..
went for my first driving prac lesson le.. it wasnt as simple as i tot it is but nevertheless, FUN!! my engine stalled for 6 times during the 100mins.. *hee*
am going to marriott for a 2nd interview this coming wed.. wish me good luck k?
watched quite alot of movies recently til i cant recall wad le.. last movie was creep, which was ytd.. the movie sux to the core.. so so gross.. highly recommended not to watch!! hahaz..
hmmm, my life is sort of in a mess now.. i am so afraid of hurting someone while in the process of trying to get over.. and i am totally so unable to get over becoz of some reasons.. i cant write out in this blog coz alot of ppl are reading this blog.. nway, i actually wanted to post a pic of my pri sch friend de.. coz one of his pic look so undescrideble.. better not in case he kill me!! hee..
Posted by jess at 1:09:00 PM